The 2011 Uncirculated Silver Eagle continues a United States Mint American Eagle coin series that first debuted in 2006. The US Mint released the collectible uncirculated coin on September 15, 2011 for a price of $60.45.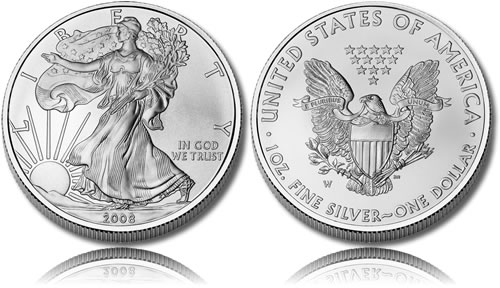 The 2011 eagle is the fourth year for the uncirculated coin which is based on the popular proof and bullion Silver Eagles that have been produced annually since 1986. Production of the uncirculated coin was cancelled in both 2009 and 2010, owing to intense demand placed on the Mint for the bullion Silver Eagles which were purchased by investors at record rates.
Acknowledging that pent up demand for the coins which had not been available for two years, collectors snatched up a total of 184,967 Uncirculated Eagles in the first five days alone. Those initial sales were enough to mark the release as the fourth best release of the year for the US Mint coming behind the associated Proof Silver Eagle, the 2011 Silver Proof Set and the 2011 Mint Set.
At the time, the United States Mint was required by law to produce the bullion strikes to meet demand. That law has since been modified which enables the Treasury Secretary to also produce numismatic Eagles, including uncirculated coin as well as the Proof Silver Eagle at their discretion.
The Mint indicates that the Uncirculated Eagles "are similar in appearance to American Eagle Bullion Coins." However, "these new uncirculated coins are distinguished by the presence of a mint mark, indicating their production facility, and by the use of burnished coin blanks, which are hand-fed into specially-adapted coining presses one at a time." The mint mark previously noted is a 'W' indicating the coins are struck at the Mint's facility in West Point.
"Walking Liberty" is shown on the obverse of all of the Silver Eagles and was first used on the 1916-1947 circulating half dollar coin. It is the work of artist Adolph A. Weinman. The reverse shows a heraldic Eagle with shield designed by United States Mint sculptor/engraver John Mercanti.
The Uncirculated Silver Eagles is sold directly to the public by the United States Mint. This is in contrast the the bullion Eagles which are sold through the Mint's network of authorized purchasers.
American Silver Eagle 25th Anniversary Set
The United States Mint in August indicated it would release an American Silver Eagle 25th Anniversary Set around October. This set will feature five coins, including two uncirculated versions — one with the standard "W" mint mark which went on sale September 15 and another with an "S" mint mark denoting its production in San Francisco. (The Mint has not indicated whether it will offer the one from San Francisco outside the set.) The 25th anniversary set will also include the annual 2011-dated bullion version — already released, the annual 2011-W proof version — already released, and a special 2011-P reverse proof version from Philadelphia.
Uncirculated Silver Eagle Annual Mintages
| | | |
| --- | --- | --- |
| Year | | Mintages |
| 2006-W | | 466,573 |
| 2007-W | | 621,333 |
| 2008-W | | 436,702 |
| 2009 | | None Minted |
| 2010 | | None Minted |
| 2011-W | | TBD |
| 2011-S | | TBD |