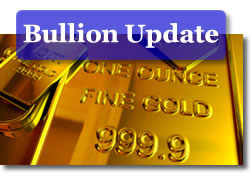 U.S. gold and silver prices rebounded 2.2 percent Thursday following two straight days of losses.
December gold prices rose $39.90 to close at $1,857.50 an ounce on the Comex in New York. Prices ranged from $1,816.20 to $1,868.70.
"There's zero growth in U.S. jobs and a lot of apprehension about what Bernanke and Obama can do with their speech," Reuters earlier quoted Michael Daly, precious metals analyst at PFG Best in Chicago.

"The grim outlook on Europe isn't helping either, and that's why stocks are down today and gold's back to looking as a safe bet."
President Obama is set to address Congress and the nation Thursday at 7:00 p.m. ET and Ben Bernanke, chairman of the Federal Reserve, delivered a speech at 1:30 p.m. ET in Minnesota.
"The Federal Reserve will do all it can to help restore high rates of growth and employment in a context of price stability," Bernanke told the Economic Club of Minnesota.

"We see little indication that the higher rate of inflation experienced so far this year has become ingrained in the economy," he added.
Gold is often purchased as a hedge against inflation. Bernanke's comments, however, were seen as offering nothing new. That in turn pressured U.S. stocks and kept intact gains in precious metals. For gold, bargain-hunting on the day and worries over world economic conditions make it appealing going forward, opined analysts.
"Besides the persistent debt problems in euro-zone countries and the threat of the U.S. economy sliding into recession, interest rates are set to remain at a very low level for an extended period," analysts at Commerzbank wrote in a research note that was cited on MarketWatch.

"In our opinion, the price of gold should therefore remain well supported and it is only a matter of time before new record highs are reached."
Silver prices for December delivery advanced 89.90 cents to settle at $42.530 an ounce. Silver prices ranged between $41.285 and $42.725. Jim Wyckoff of Kitco Metals Inc. wrote the following of the metal in the Thursday Kitco Roundup:
"December silver futures prices closed nearer the session high Thursday. The silver bulls still have the overall near-term technical advantage. Prices are in a choppy, nine-week-old uptrend on the daily bar chart.

Bulls' next upside price objective is producing a close above strong technical resistance at the August high of $44.295 an ounce. The next downside price breakout objective for the bears is closing prices below solid technical support at $40.00.

First resistance is seen at Thursday's high of $42.725 and then at $43.00. Next support is seen at $42.00 and then at Thursday's low of $41.285. Wyckoff's Market Rating: 6.5."
Platinum prices for October delivery rose $25.80, or 1.4 percent, to close at $1,854.50 an ounce, trading between $1,823.70 and $1,855.80.
Palladium prices advanced for a second straight day. The December futures contract rose $12.60, or 1.7 percent, to settle at $765.30 an ounce. Palladium ranged from $752.75 to $766.70.
London Precious Metals Prices
Precious metals prices rebounded in earlier London fixings as well. As compared to the Wednesday PM fixing, the Thursday PM Fix for gold advanced $45.00 to $1,855.00 an ounce. In similar comparisons across the other metals, silver prices jumped $1.16 to $42.14 an ounce, platinum gained $26.00 to $1,844.00 an ounce and palladium added $15.00 to $762.00 an ounce.
U.S. Mint Bullion Coin Sales
As of 4:01 ET, U.S. Mint bullion coin sales remained unchanged from the levels reported on Tuesday. Current September and year-to-date figures follow:
Sales of US Mint American Eagle and Buffalo Bullion Coins
Daily
Gains
September
Gains
YTD
2011
Gold Eagle Coin (1 oz.)
0
3,000
675,500
Gold Eagle Coin (1/2 oz.)
0
0
61,000
Gold Eagle Coin (1/4 oz.)
0
0
70,000
Gold Eagle Coin (1/10 oz.)
0
0
320,000
Gold Buffalo Coin (1 oz.)
0
0
119,500
Silver Eagles (1 oz.)
0
175K
29.126M
Sales of America the Beautiful 5 Oz. Silver Bullion Coins*
YTD
2011
Gettysburg National Military Park 5 oz.
126,700
Glacier National Park 5 oz.
126,700
Olympic National Park 5 oz.
81,200
Vicksburg National Military Park 5 oz.
28,800
Chickasaw Park 5 oz.
17,500
TOTAL
380,900
*The Gettysburg and Glacier America the Beautiful Five Ounce Silver Bullion Coins are sold out. Unlike other investment-grade products, the United States Mint does not provide daily per coin sales totals for the Olympic, Vicksburg, and Chickasaw America the Beautiful Five Ounce Silver Bullion Coins. The provided totals are as of Friday, September 2.