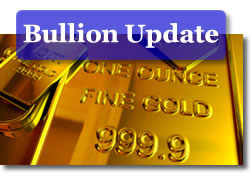 U.S. gold prices settled modestly lower Tuesday after surging early to a new record on worries over euro zone debt and the weak U.S. economy.
"Given that gold has recently undergone a correction, followed by a decent consolidation and particularly as European sovereign concerns escalate once again, we feel the ingredients are in place for another impressive gold rally," Edel Tully, a London-based analyst at UBS AG, wrote in a report that was cited on Bloomberg. "The recent correction in gold gives investors confidence that a future rally will have a solid foundation."
In the December futures contract on the Comex in New York, gold prices retreated $3.60, or 0.2 percent, to $1,873.30 an ounce — notably higher than platinum. The settlement price was nearer the session low of $1,861.80 and well off the high of $1,923.70, which was a new intraday record for gold.
In regards to gold, MarketWatch recounts HSBC analysts: With the ultra-low interest rates around the world, "central banks have shifted to exchange rate policy aiming to have the weakest currency in town. This is a game that everyone can't win… but that doesn't mean they won't keep trying. One currency that will benefit most from this is the one that will not complain, gold," they said.
In an attempt to stabilize the nation's soaring currency, the Swiss National Bank (SNB) on Tuesday set an exchange rate minimum of 1.20 between the Swiss franc and the euro.
"The current massive overvaluation of the Swiss franc poses an acute threat to the Swiss economy and carries the risk of a deflationary development," said SNB in a statement.
SNB Chairman Philipp Hildebrand said: "The current situation therefore acutely threatens our economy and our labor market. It carries the risk of a recession as well as deflationary developments… The SNB will enforce this minimum rate with the utmost determination and is prepared to buy foreign currency in unlimited quantities."
Silver prices for December delivery tumbled $1.201, or 2.8 percent, to close at $41.868 an ounce. The white metal ranged from $41.640 to $43.445. Jim Wyckoff of Kitco Metals Inc. wrote the following of the metal in the Tuesday Kitco Roundup:
"December silver futures were also pressured by bearish 'outside markets' Tuesday that included a stronger U.S. dollar index and lower crude oil futures prices. The silver bulls still have the overall near-term technical advantage. Prices are still in a choppy, two-month-old uptrend on the daily bar chart.

Bulls' next upside price objective is producing a close above strong technical resistance at the August high of $44.295 an ounce. The next downside price breakout objective for the bears is closing prices below solid technical support at $38.81.

First resistance is seen at $42.00 and then at $42.50. Next support is seen at Tuesday's low of $41.64 and then at $41.50. Wyckoff's Market Rating: 6.5."
Platinum prices for October delivery declined $26.60, or 1.4 percent, to settle at $1,858.20 an ounce. Platinum traded between $1,851.30 and $1,900.00.
Palladium prices for December delivery plunged $33.65, or 4.3 percent, to close at $749.55 an ounce. Prices ranged from $745.00 to $781.90.
London Precious Metals Prices
In London, the Tuesday PM fixing for gold remained unchanged from the Monday PM fixing. The London Fix for gold was $1,895.00 an ounce — also higher than platinum. Other precious metals declined. Silver fell 86.0 cents to $41.85 an ounce, platinum declined $6.00 to $1,866 an ounce and palladium fell $2.00 to $761.00 an ounce.
U.S. Mint Bullion Coin Weekly Sales
As of 4:17 ET, the U.S. Mint published an increase from Friday of 81,000 for its American Silver Eagle bullion coin. For how the .999 fine silver coin performed in August, read: August 2011 Sales of American Eagle Silver Bullion Coins Shatter Record.
No other bullion coin gains were noted. Current September and year-to-date bullion coin sales figures from the U.S. Mint follow:
Sales of US Mint American Eagle and Buffalo Bullion Coins
Daily
Gains
September
Gains
YTD
2011
Gold Eagle Coin (1 oz.)
0
3,000
675,500
Gold Eagle Coin (1/2 oz.)
0
0
61,000
Gold Eagle Coin (1/4 oz.)
0
0
70,000
Gold Eagle Coin (1/10 oz.)
0
0
320,000
Gold Buffalo Coin (1 oz.)
0
0
119,500
Silver Eagles (1 oz.)
81,000
175K
29.126M
Sales of America the Beautiful 5 Oz. Silver Bullion Coins*
YTD
2011
Gettysburg National Military Park 5 oz.
126,700
Glacier National Park 5 oz.
126,700
Olympic National Park 5 oz.
81,200
Vicksburg National Military Park 5 oz.
28,800
Chickasaw Park 5 oz.
17,500
TOTAL
380,900
*The Gettysburg and Glacier America the Beautiful Five Ounce Silver Bullion Coins are sold out. Unlike other investment-grade products, the United States Mint does not provide daily per coin sales totals for the Olympic, Vicksburg, and Chickasaw America the Beautiful Five Ounce Silver Bullion Coins. The provided totals are as of Tuesday, August 30.