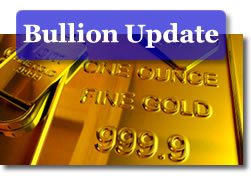 U.S. gold prices closed toward session lows Thursday, falling from its prior day record as the U.S. dollar rebounded and talks emerged of an overdone rally. Gold dropped $12.70.
Other precious metals declined as well, with silver suffering the biggest percentage decline at 2.0 percent. Platinum and palladium retreated at a more modest 0.4 percent.
U.S. stocks ended mixed for a second day, with the Dow slipping 0.17 percent, the S&P 500 dipping 0.16 percent, and the Nasdaq rising 0.13 percent.
New York precious metals closing prices follow:
Gold for December delivery fell 0.9 percent to close at $1,335.00 an ounce on the Comex in New York. It ranged from $1,326.50 to $1,366.00.

December silver dipped 45.9 cents to $22.584 an ounce. It ranged between $22.475 and $23.530.

Platinum for January delivery lost $7.00 to close at $1,705.00 an ounce. It ranged from $1,696.60 to $1,730.00.

Palladium for December delivery declined $2.55 to $587.10 an ounce. It ranged between $582.25 and $606.25.
In notable bullion quotes of the day:
As reported on MarketWatch, Michael Smith, president of T&K Futures and Options Inc, was cited as saying he expects prices to keep rising, but there will be "a lot of corrections in between." Adding: "If we're going to keep putting more money into the system, and if other countries' central banks continue too, we're going to see much higher prices for precious metals."
As recounted in a section from Kitco Metals Inc.'s Jon Nadler's daily commentary:
More dissection of the current state of hot-and-bothered affairs in the gold market came from Seeking Alpha contributor Jason Schwarz. Mr. Schwarz first questioned a market in which a super-side spectrum of confused, contradictory, and illogical explanations are being offered to account for the recent (sixty day) gains in the yellow metal. Then, Mr. Schwarz elaborates further and correctly identifies the four groups responsible for what he (among others) labels as a golden bubble. Note the three-out-of-four dominance of the 'usual suspects' as follows:

Group 1 (November 2007- April 2009): Hedge funds who were worried that the global financial system would crumble as a result of the mark-to-market banking regulatory requirements.
Group 2 (October 2009-April 2010): Hedge funds who were worried that unprecedented stimulus would result in hyperinflation as global economies recovered.
Group 3 (May 2010-July 2010): Hedge funds who were worried that the euro zone would collapse thereby causing currency chaos.
Group 4 (August 2010- ???): Individual investors who are now buying gold for the first time because they want in on the action.

Mr. Schwarz concludes with the observation that "gold at $1400 is eerily similar to oil at $140. Remember all the credible firms extrapolating the speculative action into $200 oil forecasts? Those same bubble builders are now calling for $2000 gold." and that inside of twelve months his reversion to the mean scenario (involving $60 GLD) will materialize.
In PM London bullion, the benchmark gold Fix price was $1,345.00 an ounce for a loss of $1.50 from Wednesday. Silver was $23.380 an ounce, adding 46 cents. Platinum advanced $29.00 to settle at $1,723.00 an ounce. Palladium was $598.00 an ounce, gaining $15.00.
U.S. Mint bullion coin sales picked up Thursday after their numbers remained unchanged on Wednesday. Both one-ounce American Eagle bullion coins jumped, with the Gold Eagle up 24,000 and the Silver Eagle up 235,000. Two of the three fractional Gold Eagles advanced as well, and for the first time in October The half-ounce rose 1,000 and the tenth-ounce soared 10,000.
On the numismatic coin news front, the U.S. Mint today launched its range of five products featuring proof Gold Eagles. For that story, read: 2010-W Gold Eagle Proof Coins Available.
The following are the current October sales figures from the United States Mint.
U.S. Mint 2010 Bullion Coin Sales
October
2010 Totals
American Eagle Gold 1 oz
35,000
922,500
American Eagle Gold 1/2 oz
1,000
37,000
American Eagle Gold 1/4 oz
0
54,000
American Eagle Gold 1/10 oz
10,000
365,000
American Buffalo Gold 1 oz
Sold Out
209,000
American Eagle Silver 1 oz
750,000
26,230,500
Oil and gasoline prices
New York oil prices tumbled with a stronger dollar and profit-taking among the most commonly cited factors. Crude for November delivery lost $1.56, or 1.9 percent, to end at $81.67 a barrel.
"We've had a hell of a runup the last two weeks, so it makes sense to sell, especially before tomorrow's payroll report," Stephen Schork, president of Schork Group Inc., a consulting company in Villanova, Pennsylvania, said and was quoted on Bloomberg. "We're also falling because the dollar has rebounded after taking a hammering overnight."
The national average for regular unleaded gasoline advanced 1.7 cents to $2.768 a gallon, according to AAA fuel data. The price is 7.9 cents more than last week, 8.6 cents higher than a month back, and 30.3 cents above the price from a year ago.
U.S. Stocks
U.S. stocks finished mixed, with apprehension over the monthly jobs report due Friday in the air.
"The market's looking for a Fed sign of a second round of quantitative easing," Bruce Bittles, chief investment strategist at Milwaukee-based Robert W. Baird & Co., which oversees more than $85 billion, was quoted on Bloomberg. "Stronger economic reports suggest the Fed may be less aggressive and hold back in the face of an improving economy. Negative reports would promote that idea."
The Dow Jones industrial average lost 19.07 points to 10,948.58. The S&P 500 Index retreated 1.91 points to 1,158.06. The Nasdaq Composite Index added 3.01 points to 2,383.67.