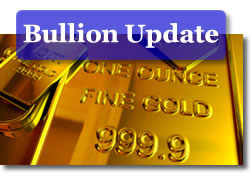 U.S. gold futures blazed a path to a fresh record high Tuesday, and for a second straight day. But silver, which often follows gold, tumbled 3.8 percent. It was the only precious metal to decline.
December gold prices rose $29.80, or 1.7 percent, to settle at $1,743.00 an ounce on the Comex in New York. The yellow metal's lowest point was at $1,717.70. Although gold closed to another all-time high, it finished well below its earlier intraday best of $1,782.50 an ounce — a level that was briefly higher than platinum.
"Markets are now worried about another global recession. Out of Europe, French bond yields have widened on expectation of sovereign debt downgrade because of the country's exposure to peripheral European debt," Natalie Robertson, a commodities strategist at ANZ, said according to Reuters.

"I think everyone was also looking at the 7 percent drop in the S&P 500. The market was very concerned over the global economy. Gold is now more expensive than platinum, and the last time this happened was back in December 2008. That's an interesting dynamic."
Gold has rallied 22.6 percent this year, surpassing the 22.4 percent gain in silver prices.
"If history is any judge, the decade-long gold rally will not end until sovereign risks — in and outside of the U.S. — recede," HSBC analyst James Steel was quoted on MarketWatch. "Any further decline in investor confidence regarding monetary and fiscal policies is likely to translate into even higher gold prices."
September silver prices plunged $1.497 to close at $37.883 an ounce. Silver moved between $37.500 and $39.655.
"Questions as to why the white metal is not exhibiting $60 or $75 price prints continue to nag the silver bulls but given the potential sag in demand for the industrial metal that an economic dip might engender, such questions do have at least partial (and logical) answers," noted Jon Nadler, Senior Analyst at Kitco Metals Inc.
Platinum prices for October delivery gained $32.80, or 1.9 percent, to settle at $1,756.40 an ounce. Platinum ranged from $1,708.80 to $1,757.60.
Palladium prices for September delivery rose $6.05, or 0.8 percent, to close at $734.55 an ounce. The metal traded between $706.00 and $739.95.
London Precious Metals
New York precious metals futures again followed in the same direction as earlier London bullion prices. London fixings from Monday (PM) to Tuesday (PM) gave an increase of $43.00 to gold with a fix of $1,736.00 an ounce. Platinum advanced $9.00 at $1,734.00 an ounce and palladium gained $2.00 at $735.00 an ounce. Silver prices, however, fell. The metal in London declined $1.50 to $38.360 an ounce.
United States Mint Bullion Coin Sales
One-ounce American Gold Eagle bullion coins registered a second straight day of impressive sales. The Gold Eagle advanced 15,000 after surging 10,000 during the previous day. In comparison, the 22-karat coins rose just 9,000 through all of last week. The tenth-ounce American Gold Eagle also gained, rising 5,000 to 15,000 for August. The 24-karat American Gold Buffalo improved to 10,000 for August with its daily increase of 4,000. The Buffalo jumped 3,500 on Monday and is 2,000 away from matching its entire July sales total. Finally, American Silver Eagles rose 65,000.
The latest United States Mint bullion product sales figures follow:
US Mint American Eagle and Buffalo Bullion Coin Sales
Daily
Gains
August
Gains
YTD
2011
Gold Eagle Coin (1 oz.)
15,000
36,000
605,000
Gold Eagle Coin (1/2 oz.)
0
2,000
60,000
Gold Eagle Coin (1/4 oz.)
0
2,000
66,000
Gold Eagle Coin (1/10 oz.)
5,000
15,000
280,000
Gold Buffalo Coin (1 oz.)
4,000
10,000
101,500
Silver Eagle Coin (1 oz.)
65,000
1.104M
26.3755M
America the Beautiful 5 Oz. Silver Bullion Coin Sales*
YTD
2011
Gettysburg National Military Park 5 oz.
126,700
Glacier National Park 5 oz.
126,700
Olympic National Park 5 oz.
80,700
Vicksburg National Military Park 5 oz.
27,500
Chickasaw Park 5 oz.
15,200
TOTAL
378,600
*The Gettysburg and Glacier America the Beautiful Five Ounce Silver Bullion Coins are sold out. Unlike other investment-grade products, the United States Mint does not provide daily per coin sales totals for the Olympic, Vicksburg, and Chickasaw America the Beautiful Five Ounce Silver Bullion Coins. The individual five ounce sales figures above are as of Tuesday, August 2. The combined total for all the coins has an as of date of Tuesday, August 8.