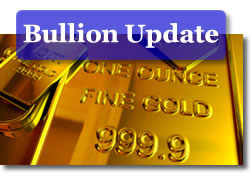 U.S. gold closed above $1,666 an ounce and to another record for a second straight day on Wednesday as safe-haven demand pushed it and silver prices higher.
"People want gold for safety," Frank Lesh, a trader at FuturePath Trading LLC in Chicago, said in a telephone interview that was cited on Bloomberg. "People are running away from currency volatility, economic weakness and political instability. Gold is an international currency, and no government can print any of it."
December gold prices rose $21.80, or 1.3 percent, to $1,666.30 an ounce on the Comex in New York. Gold traded between $1,654.40 and $1,675.90. The yellow metal has advanced $44.60 since Monday.
"The current fundamentals in the gold market are supportive of these higher prices. The key factors that have been driving investment demand for gold — concerns about sovereign debt burdens, the long-term value of certain reserve currencies and fear of persistent inflation — are likely to continue for the foreseeable future," Tom Holl, co-manager of the BlackRock World Resources Fund, said according to Reuters.
September silver prices soared $1.666, or 4.2 percent, to close at $41.758 an ounce. Silver prices moved between $40.575 and $42.060. Jim Wyckoff of Kitco Metals Inc. wrote the following of silver in the Wednesday Kitco Metals Roundup:
"December silver futures prices closed nearer the session high Wednesday and hit a fresh three-month high. The silver bulls have the solid overall technical advantage and gained some fresh upside momentum Wednesday. Prices are in a four-week-old uptrend on the daily bar chart.

Bulls' next upside price objective is producing a close above solid technical resistance at $42.50 an ounce. The next downside price breakout objective for the bears is closing prices below solid technical support at this week's low of $39.08.

First resistance is seen at Wednesday's high of $42.07 and then at $42.50. Next support is seen at $41.00 and then at Wednesday's low of $40.625. Wyckoff's Market Rating: 7.0."
Platinum prices for October delivery declined $8.50, or 0.5 percent, to settle at $1,785.00 an ounce. Platinum hit an intraday low of $1,778.20 and a high of $1,803.00.
Palladium prices for September delivery plunged $31.80, or 3.8 percent, to close at $795.10 an ounce. Palladium traded between $793.40 and $829.85.
London fixings moved in the same path as the previous day and the same direction as futures in New York. London Fix price comparisons between Wednesday (PM) and Tuesday (PM) show that gold advanced $31.50 at $1,669.25 an ounce, silver prices climbed $1.310 to $41.040 an ounce, platinum declined $11.00 at $1,782.00 an ounce and palladium declined $16.00 at $808.00 an ounce.
Gains in United States Mint bullion products were limited to gold coins on Wednesday. The one-ounce Gold Eagle rose 4,000 while the tenth-ounce size advanced 5,000. The Mint's purest 24-karat Gold Buffalo added 1,500.
For finalized American Eagle bullion coin sales figures for July, read:
The latest available bullion coin totals are shown in the following two tables:
US Mint American Eagle and Buffalo Bullion Coin Sales
Daily
Gains
July
2011
August
2011
YTD
2011
Gold Eagle Coin (1 oz.)
4,000
61,500
7,000
576,000
Gold Eagle Coin (1/2 oz.)
0
3,000
1,000
59,000
Gold Eagle Coin (1/4 oz.)
0
0
2,000
66,000
Gold Eagle Coin (1/10 oz.)
5,000
15,000
10,000
275,000
Gold Buffalo Coin (1 oz.)
1,500
12,000
2,000
93,500
Silver Eagle Bullion Coin (1 oz.)
0
2.968M
258.5K
25.53M
America the Beautiful 5 Oz. Silver Bullion Coin Sales*
YTD
2011
Gettysburg National Military Park 5 oz.
126,700
Glacier National Park 5 oz.
126,700
Olympic National Park 5 oz.
80,700
Vicksburg National Military Park 5 oz.
24,500
Chickasaw Park 5 oz.
10,800
*The Gettysburg and Glacier America the Beautiful Five Ounce Silver Bullion Coins are sold out. The United States Mint does not provide daily per coin sales totals for the Olympic, Vicksburg, and Chickasaw America the Beautiful Five Ounce Silver Bullion Coins as it does for its other investment-grade products. The individual numbers above are as of Wednesday, July 27. The Mint did report on Tuesday, August 2, that the series advanced by 6,700 coins in August. That lifts their 2011 year-to-date sales to 376,100.