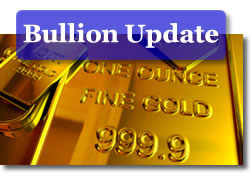 U.S gold futures rallied Wednesday, breaking away from a three-session losing streak. Silver prices soared 4.8 percent to above $35 an ounce, its first increase since Friday. Gains were attributed to inflation fears, European debt-woes and rising oil prices.
June gold prices rose $15.80, or 1.1 percent, to $1,495.80 an ounce on the Comex in New York. Gold touched a low of 1,484.60 and a high of $1,499.70.
"Some of the recent selling may have been overdone. It was too much a reaction to the negatives in worldwide economic growth," Michael Cuggino, portfolio manager of Permanent Portfolio Funds, said according to Reuters.
Silver prices for July delivery added $1.606 to $35.097 an ounce. Silver prices traded between $33.850 and $35.550.
"Silver is the one galloping," Adam Klopfenstein, a senior market strategist at Lind Waldock in Chicago, said and was quoted on MarketWatch. "If this is trade-based or a change of sentiment, we'll find out in the follow-up (Thursday)."
Platinum prices for July delivery rose $18.90, or 1.1 percent, to settle at $1,779.90 an ounce. The metal hit an intraday low of $1,751.00 and a high of $1,780.70.
Palladium prices for June delivery surged $22.95, or 3.2 percent, to close at $737.20 an ounce. It ranged between $720.25 and $738.00.
London bullion prices were higher, with the exception of platinum. When comparing London fixing prices on Wednesday (PM) from those on Tuesday (PM), gold added $18.00 at $1,496.50 an ounce, silver prices advanced 31.0 cents to $34.590 an ounce, and palladium rose $17.00 and $730.00 an ounce. Platinum fell $7.00 to $1,753.00 an ounce.
The two largest American Eagle Gold bullion coins rose Wednesday. The 1 oz. by 4,000 and the 1/2 oz. by 1,000. The latest figures published by the United States Mint follow:
US Mint 2011 Bullion Coin Sales
Daily
Gains
May
2011
YTD
2011
Gold Eagle Coin (1 oz.)
4,000
80,000
438,000
Gold Eagle Coin (1/2 oz.)
1,000
22,000
55,000
Gold Eagle Coin (1/4 oz.)
0
4,000
56,000
Gold Eagle Coin (1/10 oz.)
0
15,000
215,000
Gold Buffalo Coin (1 oz.)
0
9,500
68,000
Silver Eagle (1 oz.)
0
2.1775 M
17.4255 M
ATB Silver Bullion (5 oz.)
0
28,000
253,400