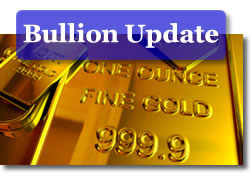 U.S. gold futures closed to another record for a second straight day and pushed its string of session advances to three.
On the Comex in New York, August gold prices advanced $4.60, or 0.3 percent, to $1,616.80 an ounce, lifting its gain this year to 13.7 percent. Gold prices ranged between $1,607.80 and $1,616.80.
Its been a booming several weeks for the yellow metal. Prior to a three-day slump last week, gold had rallied for ten consecutive sessions. It has already gained $114, or 7.6 percent, during the month of July, supported mostly by safety bets as a result of U.S. and European debt concerns. Many analysts, however, have cautioned about the possibility of a correction. Especially if an agreement is brokered in raising the U.S. debt ceiling.
"When the issues get resolved, the gold price could tumble, so short term, I'm bearish," Tom Winmill, who manages the Midas Fund in New York, said on Bloomberg Television's 'Street Smart'. "It could go down $100. That's the fear premium that's built up."
"How much of a correction there may be and for how long will in large part depend on the specifics of the agreement and whether it will be enough to support the U.S. dollar and reduce investment demand for safe-haven instruments such as gold," said James Steel, HSBC chief commodity analyst, according to Reuters.
Silver prices for September delivery rose 33.7 cents, or 0.8 percent, to close at $40.698 an ounce, trading between $40.015 and $40.698. Jim Wyckoff of Kitco Metals Inc. wrote the following of silver in the Tuesday Kitco Metals Roundup:
"December silver futures prices closed near the session high and closed at a fresh 11-week high close Tuesday. The silver bulls have the solid overall technical advantage.

Bulls' next upside price objective is producing a close above solid technical resistance at $42.50 an ounce. The next downside price breakout objective for the bears is closing prices below solid technical support at last week's low of $38.26.

First resistance is seen at this week's high of $41.10 and then at $41.50. Next support is seen at $40.50 and then at this week's low of $39.91. Wyckoff's Market Rating: 7.0. "
Silver prices have advanced 31.6 percent in 2011.
Platinum prices for October delivery gained $13.20, or 0.7 percent, to settle at $1,807.20 an ounce. Platinum ranged between $1,771.00 and $1,809.00.
Palladium prices for September delivery jumped $27.10, or 3.3 percent, to close at $836.10 an ounce. The metal moved between $806.00 and $845.40.
With the exception of palladium, London precious metals moved lower. When comparing London Fix PM prices from Monday to Tuesday, gold declined $0.75 to $1,612.75 an ounce, silver declined 44.0 cents at $40.34 an ounce, platinum declined $4.00 to $1,787.00 an ounce, and palladium rose $9.50 at $812.00 an ounce.
Sales of United States Mint bullion coins on Tuesday were limited to the one-ounce American Gold Eagle. The 22-karat bullion Eagle shot up 15,000, bringing its July total to 57,000, or 1,000 more than they logged in June. The Mint also published updated numbers for its five ounce silver bullion coins (see the note below). The latest United States Mint bullion product sales figures follow:
US Mint American Eagle and Buffalo Bullion Coin Sales
Daily
Gains
June
2011
July
2011
YTD
2011
Gold Eagle Bullion Coin (1 oz.)
15,000
56,000
57,000
564,500
Gold Eagle Bullion Coin (1/2 oz.)
0
0
3,000
58,000
Gold Eagle Bullion Coin (1/4 oz.)
0
8,000
0
64,000
Gold Eagle Bullion Coin (1/10 oz.)
0
35,000
15,000
265,000
Gold Buffalo Coin (1 oz.)
0
5,500
10,500
90,000
Silver Eagle (1 oz.)
0
3.402M
2.51M
24.8135M
America the Beautiful 5 Oz. Silver Bullion Coin Sales
YTD
2011
Gettysburg National Military Park 5 oz.
126,700
Glacier National Park 5 oz.
126,700
Olympic National Park 5 oz.
80,700*
Vicksburg National Military Park 5 oz.
21,800*
*Note: The United States Mint does not provide daily per coin sales totals for the Olympic and Vicksburg America the Beautiful Five Ounce Silver Bullion Coins as it does for its other investment-grade products. The individual numbers above are as of Monday, July 11. The United States Mint did, however, indicate on Tuesday, July 26, that the series of coins advanced 4,900 during the previous eight days and that their July sales total is at 16,300 coins. Their year-to-date level is at 369,400.