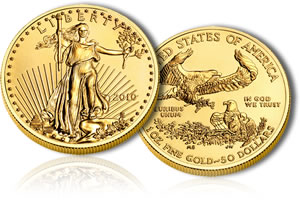 Precious metals had a disastrous week, yet U.S. Mint authorized buyers ordered more bullion American Eagle coins during the third week of May than in each of the prior weeks when metals were rallying.
New York gold prices finished lower for the fourth consecutive session on Friday, with June futures tumbling to $1,176.10 an ounce, plummeting 4.2 percent this week.
U.S. Mint one-ounce American Gold Eagles, however, soared. The coins advanced 67,000 this week, as compared to a 31,000 increase during the second week of May and a 41,500 gain during the first week. May sales on Friday reached 139,500, bringing the Gold Eagles to 471,000 for the year.
Silver prices felt more pressure, as July futures closed to $17.651 an ounce for a weekly trouncing of 8.2 percent.
U.S. Mint one-ounce American Silver Eagles were even hotter, however, with sales jumping 1,143,000 this week. They advanced 1,005,500 in the second week of May and 892,000 during the first. The Silver Eagles have already scored their best ever May at 3,040,500. They are standing at 14,571,500 for the year, which is higher than the first six months of sales in 2009.
Unlike its numismatic or collector products, the Mint sells bullion coins for a small amount over the current precious metals spot price and only to a small network of authorized purchasers. These buyers in turn resell the coins to coin dealers, precious metal providers and/or directly to the public.