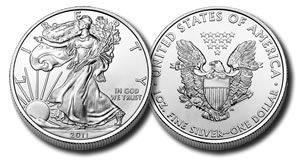 American Eagle Silver bullion coins continue to move at a record-setting sales pace. The latest United States Mint sales figures indicate that last month was the best ever June for the .999 fine silver coins. June also ranked in the top ten for all-time monthly sales.
Despite an allocation policy by the United States Mint which limits the number of Silver Eagles distributors can purchase, 3,402,000 were sold in June 2011. The level ranks as the seventh best in monthly sales for the American Eagle, marking a significant milestone given that the series was introduced a quarter of a century ago.
Top Ten Sales Months for American Eagle Silver Bullion Coins
| | | |
| --- | --- | --- |
| RANK | MONTH | SALES |
| 1 | January 2011 | 6,422,000 |
| 2 | November 2010 | 4,260,000 |
| 3 | December 1986 | 3,696,000 |
| 4 | May 2011 | 3,653,500 |
| 5 | May 2010 | 3,636,500 |
| 6 | January 2010 | 3,592,500 |
| 7 | June 2011 | 3,402,000 |
| 8 | March 2010 | 3,381,000 |
| 9 | February 2011 | 3,240,000 |
| 10 | October 2010 | 3,150,000 |
Historically, summer months tend to be weaker for bullion coins. Silver Eagle sales in June did retreat from the 3,635,500 level in May, but they were sharply higher than the 3,001,000 sold in June 2010. The summer slide proved true for the companion American Eagle Gold bullion coin as well. Its sales slowed last month and from the same time last year. Buyers ordered 61,500 ounces of the 22-karat gold coins in June 2011 versus 107,000 from the previous month and 151,500 during June 2010. American gold and silver coin performances paint a contrasting picture.
"US gold coin sales fell on the first half of 2011. The US Mint's gold coin sales declined by 14.4% mainly on account of ultra-high gold prices seen during the period," noted Jon Nadler, Senior Analyst at Kitco Metals Inc.

"The US Mint moved 576,000 ounces of gold in the form of assorted Eagle coins into the retail market. On the other hand, as has been the case historically, chasing the rising-to-the-sky silver price target proved very tempting (make that: irresistible) to small retail silver Eagle buyers; they snapped up 22.3 million ounces of such coins in the first six months of 2011. Shades of the pre Y2K silver coin rush."
While gold prices advanced 4.4 percent last quarter to mark 11 straight quarterly gains, silver prices plummeted 8.1 percent. Obviously, silver's decline proved a bit more attractive for buyers of the more affordable American Eagle Silver piece. Plus, the price of silver is still nearly double of what it was during the same time last year, adding another component to Silver Eagle demand. The allure of riding silver's waves has been irresistible, as highlighted by the above table of sales. Four months of this year are already in the all-time Silver Eagle monthly rankings. And the coin's year-to-date total at June's end stood tall at 22,303,500.
2011 is easily on target to become the best year ever for the American Eagle Silver bullion coin. Expectations are that this year's sales will surpass last year's annual record of 34,662,500.
American Eagle Silver Coin Types
American bullion coins are different than their collector proof or uncirculated counterparts. Every American Eagle Silver coin is composed of .999 fine silver and has the same obverse (heads) and reverse (tails) designs. In key differences, the bullion coin does not have a collector finish on its surface or a mint mark denoting where it was produced. In contrast, numismatic Eagle versions have a proof or uncirculated finish preferred by coin collectors, and feature a West Point "W" mint mark.
Another significant difference is how the coins are distributed. The proof and uncirculated collector coins are sold directly to the public by the United States Mint through its website and customer service call centers. By comparison, the United States Mint sells American Eagle Silver bullion coins only in large quantities and exclusively to a small group of pre-qualified companies who are known as "Authorized Purchasers" or AP's. The AP's in turn resell coins in smaller quantities to dealers and precious metals providers who then offer them to the public.