Michael Fuljenz (www.mikefuljenz.com/), President of Universal Coin & Bullion (www.universalcoin.com) in Beaumont, Texas, has been honored with prestigious excellence-in-journalism awards from the Press Club of Southeast Texas in connection with his consumer protection work about traveling gold buyers.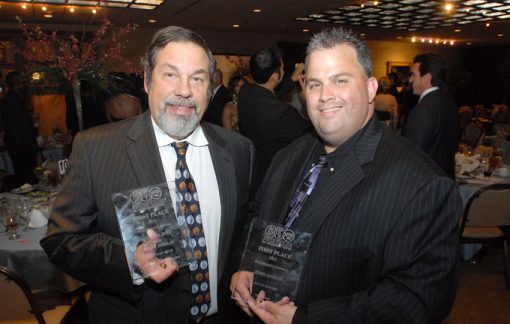 He has been assisting with news media investigations of gold-buying companies that move from community to community across the United States. Subsequent news stories reported that some of the itinerant buyers offered only pennies on the dollar for rare gold coins and jewelry, despite their frequently advertised claims such as "No One Pays More."
Mike Fuljenz (http://en.wikipedia.org/wiki/Michael_R._Fuljenz) received a first place award for best investigative radio report for one of his weekly programs on KLVI News Talk AM 560 in Beaumont that featured a consumer advisory discussion about gold buyers with Jerry Jordan, Managing Editor of The Examiner newspaper in Beaumont. Jordan also received a first place award for best investigative newspaper report for his continuing series of "Seller Beware" stories about the gold buyers.
The Press Club also honored Fuljenz with a second place award for best radio talk show, also broadcast on KLVI. Jordan received a second place award with Danielle Kosir and Charles Fields of Fox 4 KBTV for their investigative television report, "Gold Coin Scam."
Fuljenz loaned over $40,000 of rare coins and gold jewelry to investigative reporters and editors locally and nationally who then took them to traveling buyers for their offers. One buyer offered only $60 for a U.S. gold coin independently valued at $10,000 by Fuljenz and fellow members of the Professional Numismatists Guild.
Last year, the Numismatic Literary Guild (NLG) honored Fuljenz and Jordan with five national journalism awards for their exposé work and urging consumers to be careful when buying or selling gold and rare coins.  Over the years, Fuljenz has received 35 NLG awards of excellence in nine different categories including best newsletter and best investment book.
This past April Fuljenz was a featured speaker at the National Rifle Association's Freedom First Financial Seminar and an appraiser at the NRA's Antique Guns and Gold Showcase in Pittsburgh.
He presented testimony earlier this year to the Texas House of Representatives about the issue of out-of-state gold buyers and was just appointed to a three-year term as a public member of the State Bar of Texas Standing Committee on Advertising Review.
Winners in the annual Excellence in the Media contest sponsored by the Press Club of Southeast Texas (www.pressclubofsoutheasttexas.org) were announced at the Newsmaker of the Year/Excellence in the Media Awards Banquet held June 3, 2011 at Lamar University in Beaumont. Judges from across the country chose winning works from more than 620 entries in a nine-county region of Southeast Texas. The works were published, aired or released between January 1, 2010 and December 31, 2010.
Proceeds from the contest entry fees and the banquet are used to support the Press Club Memorial Scholarship for community students at Lamar University.
Founded in 1994, Universal Coin & Bullion, Ltd. (www.universalcoin.com) is a national leader in gold, rare coins and numismatic education. UCB President Michael Fuljenz is a nationally-known rare coins and precious metals expert. He is an award-winning numismatic author of books and newsletters, a frequent interview guest on radio and TV news and personal finance programs, and a community leader in his hometown of Beaumont, Texas.
For additional information, contact UCB at (877) 899-8380 or visit online at www.universalcoin.com.