An on-going series of investigative stories urging consumers to be cautious when selling gold coins and jewelry to some traveling gold buyers now have won five national journalism awards.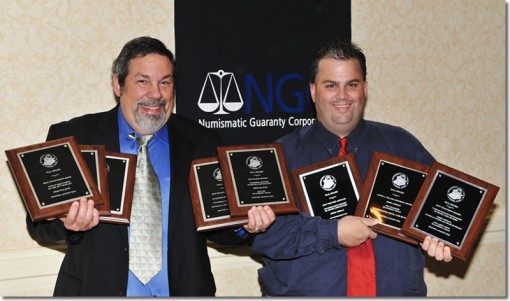 During the "seller beware" investigation conducted in five Southeastern states, one of the so-called "hotel gold buyers" offered only $60 for a rare U.S. gold coin valued by experts at $10,000. The stories also reported that scales used by some itinerant buyers to weigh gold jewelry may not be lawfully registered with government agencies, and in many cases the buyers refused to give receipts for their purchases.
The awards were presented by the Numismatic Literary Guild (www.NumismaticLiteraryGuild.org) to Jerry Jordan, Managing Editor of The Examiner (www.TheExaminer.com) newspaper in Beaumont, Texas, and to Mike Fuljenz, President of Universal Coin & Bullion (www.UniversalCoin.com), also located in Beaumont.
Fuljenz personally assisted in the investigations and provided Jordan and his team with over $40,000 of gold and silver coins and gold chains to offer the traveling gold buying companies.
Founded in 1968, the nonprofit Numismatic Literary Guild (NLG) annually presents national awards to recognize outstanding journalism on the diverse subject of money from ancient to modern. Considered the epitome of writing and broadcasting excellence in this field, the 2010 awards were presented at the American Numismatic Association World's Fair of Money in Boston, Massachusetts on August 12, 2010.
According to NLG Executive Director Ed Reiter, Jordan received awards for Best Web Site Article, Best Television Report (in conjunction with Fox 4 KBTV in Beaumont) and NLG's prestigious James L. Miller Memorial Award for his investigative reports on traveling gold buyers.
For his work regarding the investigation, Fuljenz received the Best Radio Report (in conjunction with KLVI 560 in Beaumont) and Best Dealer Publication, Investor's Profit Advisory.
In addition, he received Best Non-Commercial Video for his educational seminar, "Gold Coin Market Today," at the Money Show of the Southwest in Houston in December 2009, Best Writer Award for the NLG newsletter and Best Investment Book for reference guide on an important United States series, Indian Gold Coins of the 20th Century.
Since 1986, Fuljenz has been honored with 35 NLG awards in 10 different categories.
"No one else I can recall has ever won in so many diverse categories over the years," said Reiter.
Investigations conducted by The Examiner of several traveling gold buying companies at hotels in Alabama, Georgia, Louisiana, Mississippi and Texas revealed that "promises of big money weren't really true, and in many encounters the money offered was nearly a fourth or less of the actual value of the coins and 14 karat gold chains being presented for sale," according to Jordan.
Fuljenz advises consumers who want to sell gold coins and jewelry to first shop around. "The results from these investigations are not necessarily indicative all traveling gold buyers, but people who want to sell should consult with local merchants in their community who may offer more money. And always get more than one offer," he said.
News Media Articles
The Examiner newspaper stories can be viewed online:
KBTV Fox 4 television in Beaumont also did two stories about investigations in that community in conjunction with News Editor Jerry Jordan of The Examiner. You can view videos of the Fox 4 "Seller Beware"stories online at these web sites: