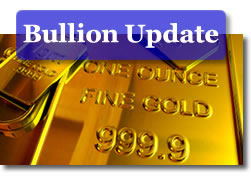 Precious metals opened under selling pressure as the midweek trading session got underway this morning. The losses ranged from $12.20 per ounce in spot gold (opening at $1,532.50) to almost $1 in silver (trading at $36.21 per ounce on the open). Declines were also noted in platinum (it fell $22 to start at $1,811.00 per ounce) and palladium (it dropped $11 to the $796.00 mark).
Sentiment in the complex was largely similar to the goings-on in crude oil (it fell nearly 1% to $98.00), copper (it lost 2.5% this morning), and assorted other base metals. Black gold fell as traders remained wary that OPEC might decide to raise output quotas as it is cognizant that high oil prices are hurting the very recovery around the world that was expected to result in higher oil demand.
Some of the early losses in oil and in gold were reversed following reports that the OPEC ministers meeting in Vienna had failed to reach a consensus on production quotas. OPEC Secretary General Abdullah El-Badri said the effective decision was no change in policy and that OPEC hoped to meet again in three months.
"Unfortunately we are unable to reach a consensus to reduce or raise production," said Mr. El-Badri.
On that note, we promptly got back to $100+ per barrel oil and a tad higher gold. Thank you, OPEC. You saved the trading day.
However, the principal factor moving the commodities markets this morning was the same one that started the price slide in the afternoon hours on Tuesday; Mr. Bernanke's speech. The Fed Chairman effectively trounced hopes that — despite persistent signs of US economic weakness- his institution will offer any additional stimulus following the expiration of the current so-called "QE2" program at the end of this month.
As well, Mr. Bernanke reiterated a number of key Fed views on Tuesday; namely, that it sees inflationary pressures (as reflected -or, shall we say, as caused by hitherto spiking prices in commodities) as transitory, that jobs growth will improve after mid-year, and that fiscal consolidation in the US should remain a top priority for lawmakers on Capitol Hill.
While Mr. Bernanke presented a balanced argument that certain gains in certain commodities over the past year were due to actual supply/demand imbalances while others were largely speculation-driven (and thus transitory) phenomena, his overall take on the matter was that the longer-term picture will offer a moderation in prices and no meaningful damage on the inflation front, and that the US central bank is not responsible for the growth of bubbles in the commodities' space.
Well, there are certainly some who disagree with the latter. French investment bank Natixis pointedly singles out the excess liquidity sloshing around in the financial system (courtesy of…the Fed and the ECB) as the prime suspect for the recent rise and expansion of a spherical type in the price of many a commodity.
The head of the investment bank's commodity research unit, Mr. Nic Brown went a step further and told the Reuters Investment Outlook Summit in London yesterday that:
"for us the market that has most bubble-like characteristics is precious metals. As far as the gold market is concerned, it's a liquidity fueled bubble. One is low interest rates."
Mr. Brown also added that:
"It may be a bit too early to suggest end of QE2 will see massive increase in interest rates and gold prices will collapse," but noted that as far as Natixis is concerned, "our base case is that within this liquidity-fueled bubble we're closer to the end than the beginning."
That view is kind of the same situation as we are noticing with the Fed and with its accommodation. We are closer to an "end" than to a continuation of what has already been perhaps too much, in the perception of some, but not all.
Currency strategist Axel Merk opines that the Fed is "simply baffled that all the money printed has not worked, and will wait and hope…for now."
Mr. Bernanke's general thrust on the 'no-go' for additional stimulus was echoed by Dallas Fed President Richard Fisher who said that the Fed has "done all it can" to provide the fuel needed for a US economic recovery and that it may have "given" more than enough already. The lack of a concrete offer of further monetary accommodation in the Bernanke speech quickly resulted in a dissipation in risk appetite in the markets and engendered a fifth session of losses (albeit modest once) in the Dow and an upward push in the US dollar on the trade-weighted index.
Some of that strength in the US currency was still manifest this morning, especially as the euro traded lower on perceptions that a confrontation may be in the offing between Germany and the ECB as regards the Greek situation. In addition, the greenback gained a bit of ground following a reported warning by Moody's on the possible future status of the UK's AAA credit rating.
And now, for something …completely different; pure conjecture. Just in case you thought that the head of the IMF was charged and jailed on account of certain "behaviors" of his vis-a-vis a Sofitel maid in New York, well, you can now throw all of that bit of "official cover" out the Sofitel window. That is, if you subscribe to the currently in-vogue and latest Roswellian flavored conspiracy theory making a splash out on "The Internets."
Gold-oriented forum chatter is ablaze with theories that Mr. Khan was in fact not acting on account of his out of control libido, but was allegedly set up because he had discovered that all of the gold in Fort Knox is gone.
That is, because the bulk of the US' gold stash of over 8,100 metric tonnes is actually held at…West Point, N.Y. (and, no, they are some not tungsten-filled set décor pieces fit for the next installment of "James Bond Vs. Goldfinger"). In any case, stay tuned. Who knows, maybe Congressman Weiner didn't really do what he already admitted he has done, either. It could just be that he was "set up" because he tried to expose shoddy bullion dealer practices to would-be investors last year.
Until tomorrow,
Jon Nadler
Senior Analyst
Kitco Metals Inc.
North America
www.kitco.com and www.kitco.cn
Blog: http://www.kitco.com/ind/index.html#nadler