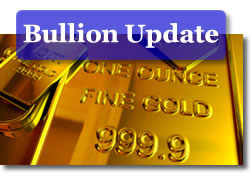 U.S. gold prices edged lower Tuesday, breaking away from a string of two session gains. Prices were little changed following Federal Reserve Chairman Ben Bernanke's comments about a slowing in the American economy. Bernanke gave no indication as to whether interest rates would be raised or further monetary stimulus attempted to bolster the economy.
"Everybody was looking for some concrete proposal but his (Ben Bernanke's) speech is pretty vague right now. That's one of the reasons why the gold market was looking tired and the equities came off," Bruce Dunn, vice president of trading at bullion dealer Auramet, said according to Reuters.
August gold prices declined $3.20, or 0.2 percent, to settle at $1,544.00 an ounce on the Comex in New York. Gold prices ranged from a low of $1,537.00 to a high of $1,551.40. Gold closed the previous day within $10 of its all-time high.
"The immediate focus of the market will be on yesterday's bearish reversal," Tom Pawlicki, an analyst at MF Global Ltd. in Chicago, said according to Bloomberg. "The reversal was made after the market broke out to a new one-month high, which suggests that the breakout was rejected."
Silver prices for July delivery rose 26.4 cents, or 0.7 percent, to close at $37.046 an ounce. The metal traded between $36.440 and $37.520.
Platinum prices for July delivery rose $9.50, or 0.5 percent, to settle at $1,830.70 an ounce. Prices ranged between $1,806.10 and $1,836.70.
Palladium prices for September delivery rose $10.80, or 1.4 percent, to close at $809.50 an ounce. Palladium traded from a low of $785.75 to a high of $811.80.
London bullion prices were mixed, as gold prices edged lower while other precious metals gained. When comparing London fixing prices on Tuesday (PM) from those on Monday (PM), gold prices declined $4.00 to $1,545.00 an ounce, silver rose 54.0 cents at $37.410 an ounce, platinum advanced $5.00 at $1,824.00 and palladium rose $15.00 to $804.00.
Gains in United States Mint bullion coins Tuesday were realized for the one-ounce American Eagles. The Gold Eagles rose 3,000 and the Silver Eagles advanced 770,000. The following are the latest U.S. bullion coin totals for June and 2011.
US Mint 2011 Bullion Coin Sales
Daily
Gains
June
2011
YTD
2011
Gold Eagle Coin (1 oz.)
3,000
24,500
476,000
Gold Eagle Coin (1/2 oz.)
0
0
55,000
Gold Eagle Coin (1/4 oz.)
0
0
56,000
Gold Eagle Coin (1/10 oz.)
0
15,000
230,000
Gold Buffalo Coin (1 oz.)
0
0
74,000
Silver Eagle (1 oz.)
770,000
817,000
19.7185 M
ATB Silver Bullion (5 oz.)*
0
0
326,800
*ATB Silver bullion coin sales figures are not published by the Mint daily. The current figure has an "as of date" of Thursday, May 27.