Gold climbed Wednesday for the second straight day as the U.S. dollar slid against other world currencies and despite a government report showing an annual dip in inflation. Silver advanced as well but platinum fell short. In other markets, oil closed higher while U.S. stocks ended mixed.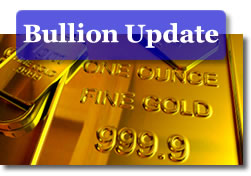 In New York trading futures for bullion:
Silver for July delivery gained 15 cents, or 1.1 percent, to $14.28 an ounce. Silver reached a low of $13.930 and a high was $14.355.

Gold for August rose $3.80, or 0.4 percent, to $936.00 an ounce. It ranged from $928.40 to $938.90.

July platinum fell $15.70, or 1.3 percent, to $1,205.20 an ounce.
"The dollar [is] likely to provide much of gold's short-term direction," James Moore, an analyst at TheBullionDesk.com was quoted on MarketWatch. "We expect the current theme of dip buying to continue."
"The market still holds the potential to test $900," Ralph Preston, a Heritage West Futures Inc. commodity analyst in San Diego, was quoted on Bloomberg. "With this morning's core consumer price index in line with expectations, $928.40 support is currently holding."
U.S. consumer prices inched slightly higher by 0.1 percent in May, according to a Labor Department report released Wednesday. The same report shows year-over-year inflation fell the most since April 1950 and is at -1.3 percent.
In a separate report Tuesday, the Labor Department said producer price rose 0.2% in May. A companion-like report to the CPI, the PPI measures prices at the factory door and inflation pressures before they reach the consumer.
Gold, considered a hedge during times of high inflation and economic uncertainty, tends to follow oil and move opposite to the U.S. dollar. A rising greenback makes dollar-denominated commodities, like bullion, more expensive for holders of other world currencies.
In London bullion, the benchmark gold price was set earlier in the day to $930.50 an ounce, which was $3.50 lower than Tuesday. Silver fell 28 cents $14.02 an ounce. Platinum was fixed $26.00 lower to $1,201.00.
Oil and gasoline prices
Oil prices closed higher in volatile trading "after the government reported a bigger-than-expected drop in crude supplies and an increase in gasoline demand," writes Polya Lesova of MarketWatch.
New York crude-oil for July delivery gained 56 cents, or 0.8 percent, to close at $71.03 a barrel. The contract had an intraday low of $69.00.
Prices at the pump increased a half penny for the second straight day, according to AAA. The national average for unleaded gasoline moved to $2.679 a gallon, which is 5.2 cents higher than a week ago and 36.8 cents more than last month.
U.S. Stocks
U.S. stocks were mixed Wednesday as financials turned south. The Dow Jones industrial average lost 7.49 points, or 0.09 percent, to 8,497.18. The S&P 500 Index declined 1.26 points, or 0.14 percent, at 910.71. The Nasdaq Composite Index gained 11.88 points, or 0.66 percent, to 1,808.06.
Check out additional market resources at Live Bullion Spots, the Silver Coin Melt Calculator, U.S. Mint Collector Bullion Price Guide, and the Inflation Calculator.