The Royal Mint is accepting pre-orders for a commemorative Alderney Royal Wedding £1000 Gold Kilo coin. The unique gold kilo coin, struck at the facility in Llantrisant, South Wales, is one of the official Royal Wedding coins approved by the Royal Household and the Government.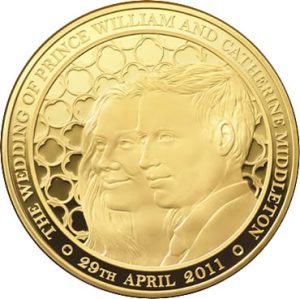 It carries a price tag of £40,000 (about $59,292.00 USD on Friday, April 29) and its mintage has been limited to just 40.
A side by side portrait of Prince William and Miss Catherine Middleton is featured on the gold piece, with Prince William in the foreground. Behind them is an image portraying the Westminster Abbey's famous Rose window. Inscriptions include THE WEDDING OF PRINCE WILLIAM AND CHATHERINE MIDDLETON, 29TH APRIL 2011. The commemorative has a face value of £1,000.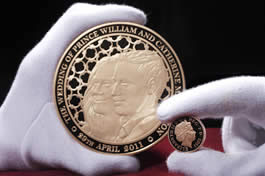 The solid 22 carat gold coin measures 10 centimeters in diameter (3.937 inches), which is nearly four and a half times the size of a standard £1 coin, and contains one full kilogram of gold (35.27 ounces). Since other metals are used to complete the alloy, the coin's actual weight is 1.096 kilograms (38.66 ounces).
Each commemorative comes in a special presentation case with a numbered Certificate of Authenticity personally signed by the artist, Gordon Summers.
"It's a huge honour to be the designer of a coin commemorating the Royal Wedding, especially a limited edition kilo. I wanted to capture the couple in a formal portrait, seen side by side, with William in the foreground of the design," stated Summers.

"Because of the coin's dimensions, I had the freedom to create an intricate backdrop. Portraying Westminster Abbey's famous Rose window, the magnificent venue for the big day, was an instinctive choice."
In addition to the gold kilo, the Royal Mint is also striking limited edition pure silver kilo coins. They will have a face value of £50 and will sell for £1,650. Each silver coin contains a full kilogram of fine silver and also has a diameter of 10 centimeters. The Royal Mint has set their maximum mintage at 200.
Both kilo coins are issued on behalf of Alderney and are legal tender on that island. Orders may be placed at www.royalmint.com/royalwedding.
About The Royal Mint
The Royal Mint (http://www.royalmint.com/) has a history dating back over 1,000 years. By the late thirteenth century the organization was based in the Tower of London, and remained there for over 500 years. By 1812, the Royal Mint had moved out of the Tower to premises on London's Tower Hill. In 1967 the building of a new Royal Mint began on its current site in Llantrisant, South Wales.