The Perth Mint today released Australia's official Royal Wedding 1oz Silver Coin commemorating the wedding of HRH Prince William and Catherine Middleton.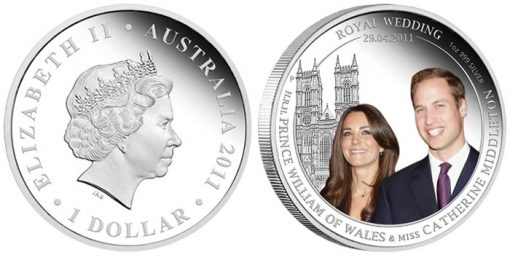 Endorsed by Her Majesty Queen Elizabeth II, the Royal Wedding Coin features a reverse of an official image of the happy couple, with beaming smiles on their jubilant faces realistically portrayed in color. In the background is an intricately detailed sculpture of Westminster Abbey, which is the setting for the wedding ceremony on April 29, 2011. Inscriptions include 'Royal Wedding 29.04.2011', 'H.R.H. Prince William of Wales & Miss Catherine Middleton', and The Perth Mint's 'P' mintmark.
The coin's obverse features Ian Rank-Broadley's effigy of Prince William's grandmother with inscriptions 'Elizabeth II', 'Australia 2011', '1 Dollar' and the initials 'IRB'.
"We are delighted to issue a legal tender Royal Wedding commemorative which symbolises Australia's heartfelt congratulations to the couple and warm wishes for their future happiness," said Ron Currie, Perth Mint Sales and Marketing Director.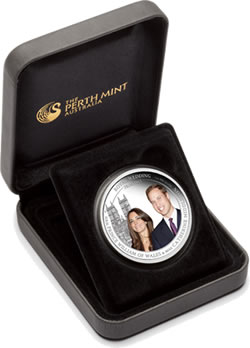 The commemorative Royal Wedding Coin is is struck in proof quality, composed of one ounce of 99.9% silver and has a limited mintage of 12,500.
There is an added limit in place of 5 coins per customer. It isssued as legal tender under the Australian Currency Act 1965.
The Royal Wedding 1oz Silver Coin is priced at $105.00. Collectors can place their order from The Perth Mint Shop at 310 Hay Street in East Perth, by telephoning FREECALL 1800 098 817 or via the Mint's online store at www.perthmint.com.au.
Each coin is placed in a presentation case within a white gift box that is accompanied by a numbered Certificate of Authenticity.
About the Perth Mint
The Perth Mint, wholly-owned by the State Government of Western Australia, is the official issuer of the Australian Federal Government's Gold and Silver Bullion Coin Program. The Mint opened in 1899 in response to the discovery of rich gold deposits in Coolgardie and Kalgoorlie.  It was Australia's third branch of Britain's Royal Mint — the others being the Sydney Mint and the Melbourne Mint (both closed).
The Perth Mint remained under Britain's jurisdiction until 1 July 1970, when ownership transferred to the State Government of Western Australia. 
In 2003, The Perth Mint officially opened an 8,400 square metre state-of-the-art manufacturing facility next door to its original limestone building.  Dominating the Mint's heritage precinct, these two important buildings are powerful symbols of more than 100 years of minting excellence in Western Australia.