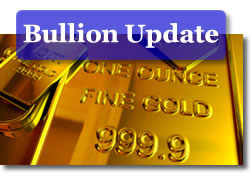 U.S. gold futures fell a modest 0.4 percent Tuesday, ending a streak of six records and eight session advances. Silver prices tumbled 4.5 percent, the biggest single day loss in six weeks. Profit-taking and corrective pull-backs were noted for precious metals losses.
June gold prices lost $5.60 to end at $1,503.50 an ounce on the Comex in New York. Gold hit a low of $1,492.00 and a high of $1,508.50.
"Given the pace and scale of gains in gold and silver in recent weeks, there is the threat of a deeper correction in the coming sessions," James Moore, an analyst at TheBullionDesk.com in London, said in a report that was cited on Bloomberg.
"A period of correction and consolidation has been expected for some time and it may ensue as gold, and particularly silver, are overbought in the short term," analysts at GoldCore said in a note to clients that was relayed on MarketWatch.
Silver prices for May delivery plummeted $2.099 to $45.050 an ounce. The loss was the biggest since March 15, and down 9.6 percent from the 31-year intraday high of $49.820 an ounce reached on Monday. Silver prices hit a low of $44.610 and a high of $47.155 on the day. One week ago silver prices closed at $43.91 an ounce.
Jon Nadler, Senior Analyst at Kitco Metals Inc., noted in his daily morning commentary that:
"On Monday and during the overnight hours the silver story was much the same; a frenzied spike to very near $50 followed by a near 12% insta-collapse down to the mid $44 area. Late Monday market analysis revealed a string of five days during which the average Daily Sentiment Indicators remained at 97%. Such extreme levels have not been noted for circa a quarter of a century in the white metal.

In the words of Elliott Wave Editor, technician Steven Hochberg, the vertical price rise and an extreme in optimism is potentially 'ultimately lethal for those who believe that they can outrun the impending reversal.' Silver has been on a speculative tear since Valentine's Day and it remains the focus of most financial media and commentary headlines. Hopefully, latecomers to the silver party will not experience the characteristics of a long-gone, other …Valentine's Day."
Platinum prices for July delivery declined $22.70, or 1.2 percent, to settle at $1,805.40 an ounce. Platinum traded between $1,796.10 and $1,832.50.
Palladium prices for June delivery ended down $5.10, or 0.7 percent, to $755.70 an ounce. Palladium ranged from $745.50 to $761.35.
UK markets reopened Tuesday following their extended holiday break. London precious metals prices retreated when comparing to their PM fixings on Tuesday from Thursday. The PM gold fix lost $6.50 at $1,497.50 an ounce. Silver fell 78.0 cents at $45.480 an ounce. The platinum fix remained unchanged at $1,812.00 an ounce. Palladium declined $11.00 at $754.00 an ounce.
All United States Mint bullion coins advanced Tuesday, including the newly released Gettysburg and Glacier coins. The two five-ounce 2011 America the Beautiful Silver Bullion Coins registered first day sales that combined to a total of 153,400. The American Silver Eagles advanced 718,000, bringing their year-to-date sales to over 15 million. Daily, April and year-to-date totals for each of the Mint's bullion coins follow:
U.S. Mint 2011 Bullion Coin Sales
Daily Gains
April 2011
YTD 2011
American Eagle Gold Coin (1 oz)
13,500
78,500
342,000
American Eagle Gold Coin (1/2 oz)
4,000
5,000
26,000
American Eagle Gold Coin (1/4 oz)
12,000
14,000
52,000
American Eagle Gold Coin (1/10 oz)
15,000
30,000
190,000
American Gold Buffalo Coin (1 oz)
3,500
17,000
55,000
American Eagle Silver (1 oz)
718,000
2,819,000
15,248,000
2011 ATB Silver Bullion Coins (5 oz)
153,400
153,400
153,400