The US Mint on Tuesday said the pricing for the numismatic Hot Springs National Park 5 oz Silver Uncirculated Coin would be set at $279.95. The coin will launch on April 28.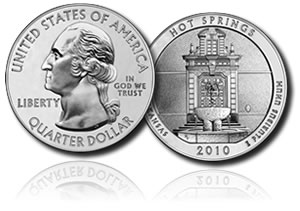 The price is the preliminary amount to place on the other 2010 and 2011 America the Beautiful Silver Uncirculated Coins, although the Mint explicitly states its coin pricing is subject to change. Given the volatile and rapid rate of silver's climb in 2010 and 2011, it would seem chances for future price adjustments may be more probable than not.
At $279.95 and using the current silver spot price of $40.05 an ounce, the 5 oz, .999 fine silver Hot Springs coin  has a melt value of $200.25, representing a premium of $79.70, or 39.8 percent. A clear example of how the coin's intrinsic value can change significantly in such a short time is noting the London silver fix price on Monday at $41.37 an ounce, which is likely closer to when the Mint set pricing. The Hot Springs coin's premium based on Monday's silver pricing would be $71.10, or 35.3 percent. Going back further, silver was at $28.74 an ounce when the US Mint first announced in December that it would offer the uncirculated coins. Collectors would certainly be happier with pricing based on that level, but obviously none of the issues made it out last year.
As an uncirculated numismatic piece, the true value of the Hot Springs 5 oz Silver Uncirculated Coin is driven to a greater degree by its limited availability and desirability to coin collectors. The US Mint has said the Hot Springs issue has a mintage of 27,000. While demand was expected to be fierce for the coins, the pricing is sure to dissuade some buyers.
Unlike the Hot Springs bullion version which was sold to the Mint's network of distributors in December, buyers will be able to purchase the uncirculated coin directly from the Mint on April 28 at noon ET.
The coin has an uncirculated brilliant finish, bears the Philadelphia ("P") mint mark, and comes encapsulated within a plastic presentation case that is accompanied with a Certificate of Authenticity. The four remaining 2010-dated issues are expected to be released in staggered intervals later this year. Those and the 2011 issues currently have a "TBD," or To Be Determined date in the Mint's product schedule.