The United States Mint is reviewing the pricing of its products due to soaring silver prices, according to a US Mint official. Sales of at least one of its sets have been suspended until the review process is complete.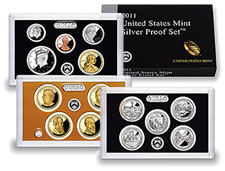 The Mint currently has a pricing policy in place for its numismatic gold coins. Based on it and the prevailing cost of gold, the US Mint may adjust collector gold coin prices weekly. It does not have a similar pricing system in place for its numismatic silver products.
"Recently, the market price of silver has risen substantially. As a result, the United States Mint is reviewing the prices of current products containing silver to make sure the market value of the silver contained in them is not now higher than the cost of the products themselves," US Mint spokesman Michael White said on Monday.
A recent CoinNews.net article noted how 31-year high silver prices have resulted in exploding silver coin values. On Friday, coins like the 1964 quarter had a melt value of $6.39. The 2010 America the Beautiful Quarters Silver Proof Set was valued at $31.95, which was only $1 less than its US Mint pricing.
On Monday the precious metal surged as high as $36.75 an ounce, bringing the 1964 quarter's melt value to an astounding $6.98. The set's melt value went up to $33.23, which is above the original US Mint pricing for the product. It is this set which the US Mint has suspended, presumably to raise its price at some point. Customers who visit its product page at http://www.usmint.gov/catalog will now see a Mint message saying "the product is temporarily unavailable."
As of this writing, all 2011-dated products are still available. These products were already priced substantially higher than 2010-dated issues in response to silver which soared nearly 84 percent last year. Obviously, their prices could go higher if the metal continues its streak of gains.
To discover the current melt values of new US Mint products, check out this site's Silver Coin Price Guide. To find the melt values of older US coins, see the Silver Coin Calculator.