The collector Hot Springs National Park 5 Oz Silver Uncirculated Coin is scheduled for release on Thursday, April 28, 2011, an updated US Mint product schedule indicates. The piece is the first America the Beautiful 5 Oz Silver Uncirculated Coin to launch in the new series and follows all of the 2010-dated investor-grade bullion versions issued last December.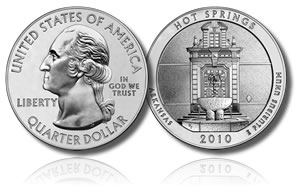 A price has not been published yet, but given silver is currently over $40.45 an ounce and the uncirculated coin is composed of five ounces of the metal, expectations are for prices to exceed $200.
The US Mint indicated in December that a mintage level of 27,000 was set for each 2010-dated America the Beautiful 5 Oz Silver Uncirculated Coin.
The Hot Springs Silver Uncirculated Coin will be encapsulated in plastic within a presentation case and will come with a Certificate of Authenticity, like most other individual collector coins.
When available, orders can be placed at the US Mint's website (http://www.usmint.gov/) or their toll free number 1-800-USA-MINT (872-6468). A limit of one per household can be expected.
The US Mint has not indicated when the four remaining 2010 issues will be made available. They will honor Yellowstone National Park Quarter in Wyoming, Yosemite National Park Quarter in California, Grand Canyon National Park Quarter in Arizona and Mount Hood National Forest Quarter in Oregon.
Hot Springs National Park Coin Designs
The coin's reverse design is the same as the bullion version and that of the Hot Springs Quarter. It shows a water fountain and the front entrance of the Hot Springs National Park headquarters building. Inscriptions include HOT SPRINGS, ARKANSAS, 2010 and E PLURIBUS UNUM. The design was created by Don Everhart and engraved by Joseph Menna.
The obverse features John Flanagan's 1932 portrait of President George Washington. The image has been digitally restored to closer reflect the details of the original model.
The edge incused lettering on the large coins indicate the coin's .999 fineness and 5 oz weight.
Different finishes and the appearance or lack of a mint mark are the key differences between the three-inch, five ounce .999 fine silver investor bullion coin and collector uncirculated coin. Both versions are produced at the US Mint facility in Philadelphia, but only the uncirculated coins bear a "P" mint mark. The collector uncirculated finish comes from the particular coining process used to make it.
The US Mint had described past uncirculated coins as having "quality enhancements such as slightly higher coining force, early strikes from dies, special cleaning after stamping, and special packaging."
Another variance between the two series is that the US Mint sells collector uncirculated coins directly to the public, while bullion products are sold through an established network of Authorized Purchasers.