The United States Mint released the second annual America the Beautiful Quarters Silver Proof Set on Friday, April 1, 2011 at 12 noon ET. Collectors will have to spend a little more than originally expected, due to the rising cost of the market price of silver.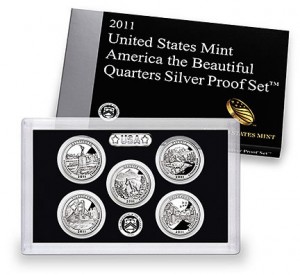 The US Mint priced the set at $41.95. Previously, it had been reported that the set would be $39.95, but that was before silver prices soared in 2011 to fresh and multiple 31-year highs. In fact, last year's silver quarters set also experienced a similar price hike a few weeks ago, from $32.95 to $39.95.
There are five 2011-dated America the Beautiful Quarters® in the new proof set, and each is composed of 90 percent silver. All together, the US Mint set includes 0.904 ounces of the precious metal. That is $34.03 worth of silver at Friday's London fix price of $37.63 an ounce.
The 2011 set includes the Gettysburg National Military Park Quarter for Pennsylvania, the Glacier National Park Quarter for Montana, the Olympic National Park Quarter for Washington, the Vicksburg National Military Park Quarter for Mississippi, and the Chickasaw National Recreation Area Quarter for Oklahoma.
Each silver quarter is in pristine proof condition and struck at the Mint's San Francisco facility and bears the "S" mint mark. The five coins are sealed in a special protective package with a clear plastic lens, and each set contains a US Mint Certificate of Authenticity.
If the proof set seems familiar, that it because the same exact coins were also issued within the annual 2011 Silver Proof Set which was released on January 25 for $67.95. This set also includes this year's four Presidential Dollars as well as proof versions of the other 2011-dated circulating coins — the Native American dollar, Kennedy half dollar, Roosevelt dime, Jefferson nickel and the Lincoln cent. The half dollar and dime are composed of 90 percent silver. The other coins have a clad composition.
Orders may be placed by going to the US Mint online store via http://www.usmint.gov/ or by calling their toll-free number 1-800-USA-MINT (872-6468). Hearing and speech-impaired customers with TTY equipment may place their order by calling 1-888-321-MINT (6468). An additional shipping and handling fee of $4.95 will be applied to all domestic orders.
There are no household limits in place at this time and no mintage limits. The annual quarters set is one of the more popular US Mint offerings. The 2010 America the Beautiful Quarters Silver Proof Set, which was released on May 27 (and is still available from the US Mint), has sales of 246,120 as of March 27, 2011.