Following its acclaimed public debut earlier this month in California, the first-ever complete set of certified proof U.S. $3 gold coins will be publicly displayed at the Professional Coin Grading Service (www.PCGS.com) booth, #1957, during the first three days of the four-day Whitman Coin & Collectibles Baltimore Expo (www.WhitmanExpo.com) in the Baltimore, Maryland Convention Center, March 31 – April 3, 2011.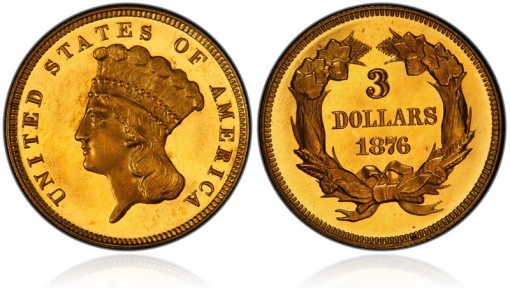 "This unprecedented 36-coin set was publicly displayed for the first time anywhere at the recent American Numismatic Association's National Money ShowSM in Sacramento, and we heard many positive comments from collectors and dealers. The set was assembled over the past six years by collector Tom Bender of Philadelphia, Pennsylvania and Palm Coast, Florida, and he has graciously agreed to display it again," said Don Willis, President of PCGS, a division of Collectors Universe, Inc. (NASDAQ: CLCT).
This is the all-time finest $3 Gold Basic Set, Proof (1854 – 1889) in the PCGS Set Registry™ with 23 of the coins listed as Population 1.
A video program about the collection was shot during the set's public debut in California. It features an informative interview Willis conducted withLaura Sperber, President of Legend Numismatics in Lincroft, New Jersey who encouraged Bender to begin the collection in January 2005 and helped him obtain most of the coins.
The video can be viewed below or online on the PCGS home page at www.PCGS.com.
Highlights of the collection include Bender's personal favorite, the 1856, graded PCGS PR65+ Deep Cameo, formerly in the famous Garrett Collection; 1873 Open 3 PR65 Deep Cameo; 1875 PR65 Deep Cameo; and 1876 PR66 Deep Cameo.
The PCGS Set Registry has more than 54,000 registered sets of U.S. and world coins. For additional information, visit online at www.PCGS.com/setregistry or call PCGS Customer Service at (800) 447-8848.
About PCGS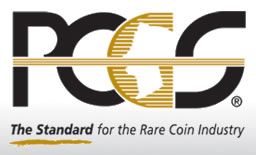 Professional Coin Grading Service (PCGS) is a division of Collectors Universe, Inc. (NASDAQ: CLCT), the leader in third-party authentication and grading services for high-value collectibles including rare coins, trading cards, tickets, autographs, memorabilia and stamps.
Since 1986, PCGS experts have authenticated, graded and certified more than 20 million coins from around the world with a declared value of over $20 billion.
For additional information, visit www.PCGS.com or call PCGS Customer Service at (800) 447-8848.