U.S. gold fell for a fourth straight session on Tuesday, its longest string of losses since January 7. The metal's fall was modest, however, at 0.3 percent — the same as silver's. Platinum declined a gentle 0.5 percent. Palladium was the stand out in precious metals. It rose 1 percent.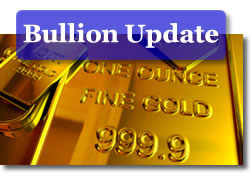 Gold futures prices for June delivery, now the most active contrast, retreated $3.80 to close at $1,417.50 an ounce on the Comex in New York. Gold prices hit an intraday low of $1,412.10 and a high of $1,424.70.
Gold was weighed down, opined analysts, by increased speculation that the Fed would tightened its monetary policy sooner versus later.
"Additional signs of improvement in the US economy are, one-by-one, undermining the exuberance that has been the signature sentiment in various commodity trades and are, one-by-one, shifting the tide in favor of a higher interest rate environment (one that is not so conducive to aggressive betting in this niche)," noted Jon Nadler, Senior Analyst at Kitco Metals Inc.
"If the economy develops as I hope and think it will be during 2011, I think it will be time for us to start to reverse our ultra-aggressive and ultra-easy monetary policy," St. Louis Federal Reserve President James Bullard said on Tuesday. "I'm just talking for myself. I think it could be on the order of $100 billion less than what we had initially thought, but I would leave that up to how the rest of the committee would want."
"In the short term, any rhetoric on money tightening could certainly cause some anxiety, resulting in gold prices correcting a bit, but I continue to see a significant underlying bid in gold as dips are being bought in the physical market," James Dailey, portfolio manager of the TEAM Asset Strategy Fund, was quoted on Reuters.
Silver prices for May delivery declined 10.1 cents to settle at $36.987 an ounce. Silver prices traded as low as $36.530 and as high as $37.250.
Platinum prices for July delivery, the most active contract, ended down $8.00 to $1,744.10 an ounce. Prices ranged between $1,739.00 and $1,756.00.
Palladium prices for June delivery rose $7.25 to close at $752.95 an ounce. Palladium traded between $738.50 and $759.80.
London fix precious metals held their ground or improved when comparing their latest to previous PM fixings.
The London gold fix rose a modest 50 cents to $1,417.50 an ounce. Silver prices remained unchanged at $36.62 an ounce. Platinum advanced $15.00 to $1,745.00 an ounce. The palladium fix edged up $1.00 to $743.00 an ounce.
The American Buffalo Gold was the single United States Mint bullion coin to advance Tuesday as opposed to Monday when all but one bullion option rose. The 24-karat Buffalo Gold coin climbed 1,500 to 38,000 for March and the year. The latest United States Mint bullion coin sales figures follow:
U.S. Mint 2011 Bullion Coin Sales
March 2011
YTD 2011
American Eagle Gold Coin (1 oz)
58,000
261,000
American Eagle Gold Coin (1/2 oz)
8,000
21,000
American Eagle Gold Coin (1/4 oz)
20,000
38,000
American Eagle Gold Coin (1/10 oz)
40,000
160,000
American Gold Buffalo Coin (1 oz)
38,000
38,000
American Eagle Silver (1 oz)
2,767,000
12,429,000