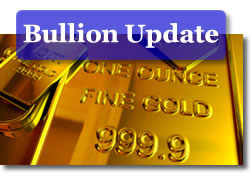 U.S gold rose for a second session Monday, returning atop $1,500 an ounce after sliding 2.2 percent in the prior week. Silver prices rebounded 5.2 percent following a 27.4 percent drudging during the same time as it suffered its worst week since 1975.
June gold prices rose $11.60, or 0.8 percent, to $1,503.20 an ounce on the Comex in New York. Gold futures ranged between $1,489.00 and $1,512.00.
"Gold and silver may regain strength as traders perceive last week's commodities washout to be excessive and it isn't viewed as a trend reversal," Park Jong Beom, Seoul-based trader with Tongyang Futures Co., was quoted on Bloomberg. "There's no change in the outlook for a weaker dollar as well."
"The gold success today is a nice reflection — a mirror image almost — of the dollar index failure today along the 75 fault line," Richard Hastings, a macro strategist at Global Hunter Securities, said according to MarketWatch.
Silver prices for July delivery surged $1.829 to settle at $37.116 an ounce. Silver prices moved between $35.190 and $37.975.
Platinum prices for July delivery gained $8.70, or 0.5 percent, to $1,795.10 an ounce. Platinum traded from $1,781.60 to $1,803.20.
Palladium prices for June delivery advanced $12.70, or 1.8 percent, to $729.00 an ounce. They ranged between $715.35 and $735.00.
London precious metals prices enjoyed better gains than in New York. When comparing London PM fixings on Monday to Friday, gold rose $15.50 at $1,502.00 an ounce, silver added $3.80 at $38.00 an ounce, platinum climbed $2.00 at $1,791.00 an ounce and palladium advanced $46.00 at $767.00 an ounce.
Most United States Mint bullion coins rose Monday. American Silver Eagles led, jumping 720,000 to top 16.6 million in sales this year. The one-ounce American Gold Eagle rose 12,000 and now stands at 423,500 in year-to-date sales.
US Mint 2011 Bullion Coin Sales
Daily
Gains
May
2011
YTD
2011
Gold Eagle Coin (1 oz.)
12,000
65,500
423,500
Gold Eagle Coin (1/2 oz.)
4,000
17,000
50,000
Gold Eagle Coin (1/4 oz.)
0
4,000
56,000
Gold Eagle Coin (1/10 oz.)
5,000
15,000
215,000
Gold Buffalo Coin (1 oz.)
0
4,500
63,000
Silver Eagle (1 oz.)
720,000
1,421,000
16,669,000
ATB Silver Bullion (5 oz.)*
0
54,400
237,800
*Sales figures for the five-ounce America the Beautiful Silver Bullion Coin were last published by the United States Mint on Monday, May 2. All other sales figures are as of Monday, May 9.