U.S. gold and silver prices rebounded slightly Wednesday after precious metals and other commodities were pounded during the previous session.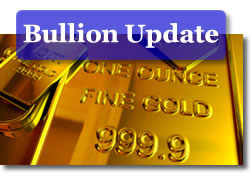 June gold prices rose $2.00, or 0.1 percent, to close at $1,455.60 an ounce on the Comex in New York — its first gain in three days. Gold prices traded between $1,452.00 and $1,463.70.
"The Fed is starting to have some dissension on inflation, (Dallas Fed President Richard) Fisher came out and said inflation could ramp up in a meaningful way if the Fed doesn't address it," Adam Klopfenstein, Senior Market Strategist at Lind-Waldock in Chicago, said according to Reuters. "Until you address the underlying factors that are driving gold prices up, they will not meaningfully adjust."
GFMS, an independent metals consultancy, forecasts $1,600 gold prices before the end of the year.
"The prospects for gold prices this year remains bright," Philip Klapwijk, GFMS chairman, said in a news release cited on MarketWatch. "Investors continue to be concerned about the outlook for inflation, with governments in general showing little appetite to tighten monetary policy significantly."
Silver prices for May delivery gained 17.1 cents, or 0.4 percent, to $40.237 an ounce, rising seven out of the last eight sessions. Silver prices hit a low of $40.035 and a high of $40.780.
Platinum prices for July delivery climbed $2.90, or 0.2 percent, to $1,777.20 an ounce. Platinum traded between $1,772.50 and $1,793.00.
Palladium prices for June delivery declined $4.80, or 0.6 percent, to close at $765.30 an ounce. Prices ranged from $760.55 to $776.40.
London PM fix precious metals prices were mixed as compared to their PM fixes on Tuesday. Gold and platinum fixings advanced while silver and palladium fixes declined.
The PM gold fix rose $7.00 at $1,457.50 an ounce. Silver prices fell 22.0 cents at $40.220 an ounce. The platinum fix added $1.00 at $1,786.00 an ounce. Palladium lost $10.00 at $773.00 an ounce.
U.S. Mint gold bullion coins advanced Wednesday while the Mint's other bullion products remained silent. Sales of the one-ounce Gold Eagle rose 1,000 and the Gold Buffalo picked up 1,500. The following are the latest U.S. Mint sales figures:
U.S. Mint 2011 Bullion Coin Sales
April 2011
YTD 2011
American Eagle Gold Coin (1 oz)
44,000
307,500
American Eagle Gold Coin (1/2 oz)
0
21,000
American Eagle Gold Coin (1/4 oz)
0
38,000
American Eagle Gold Coin (1/10 oz)
10,000
170,000
American Gold Buffalo Coin (1 oz)
7,500
45,500
American Eagle Silver (1 oz)
1,374,000
13,803,000