Two famous early American coins — a 1776 Continental Currency Dollar struck in pewter (graded NGC MS65) and a 1792 Half Disme (graded NGC MS63) — will be the featured exhibits at the Santa Clara Coin, Stamp & Collectibles Expo, April 15 – 17, 2011, in the Santa Clara, California Convention Center.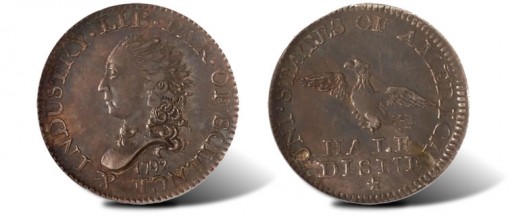 "The coins have a combined value of $750,000, and will be displayed courtesy of Robert Higgins of Certified Assets Management, Inc. in Wilmington, Delaware," said Ronald J. Gillio, Expo General Chairman.

"Benjamin Franklin is credited with the design concept of the Continental Dollars and they were struck just a few weeks after the Declaration of Independence was signed. The 1792 Half Disme was authorized by President George Washington as the first official coin produced by the United States," explained Gillio.
Open to the public, over 400 dealers will be buying and selling gold, rare coins, paper money, postage stamps, postcards, autographs, historical documents, antiques and estate jewelry during the three-day show. Many dealers will provide free, informal appraisals for the public.
A gold coin door prize will be given away each day to a lucky visitor. Representatives of the Professional Coin Grading Service (www.PCGS.com) will attend the show to accept submissions of coins for authentication and grading.
Admission is $6 (for a three-day pass); $3 for seniors. Discount coupons available online at www.SantaClaraExpo.com. Children 7 and younger free.
Public hours are Friday and Saturday, April 15 and 16, from 10 a.m. to 7 p.m., and Sunday, April 17, from 10 a.m. to 3 p.m.
Free parking is conveniently available at the Convention Center.
For additional information, between April 14 and 17 call (408) 748-7055. Prior to April 14, call Expos Unlimited at (805) 962-9939 or visit online at www.SantaClaraExpo.com.
The Santa Clara Coin, Stamp & Collectibles Expo is produced by Expos Unlimited, a division of Collectors Universe, Inc. (NASDAQ: CLCT).