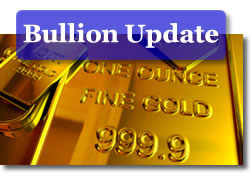 U.S. bullion prices rallied Monday as gold topped $1400 an ounce, capping a third straight day of all-time record highs.
Silver registered its own three-day streak, reaching a 30-year high and easily surpassing $27 an ounce. Palladium, the best performer in precious metals on Monday, advanced to its highest price since 2001.
Lifting precious metals, opined analysts, were renewed worries over European debt as the cost of Irish and Portuguese debt widened.
"Gold will benefit from any sovereign-debt fallout," Matthew Zeman, a metal trader at LaSalle Futures Group in Chicago, said and was quoted on Bloomberg. "Gold is going to continue to be bought on dips because no one believes the dollar can stage a significant rally."
New York precious metals closing prices follow:
Gold prices for December delivery rose $5.50, or 0.4 percent, to settle at $1,403.20 an ounce on the Comex in New York. It ranged from $1,386.60 to $1,407.20.

December silver prices surged 68.4 cents, or 2.6 percent, to $27.432 an ounce — its highest point since March 2008. The white metal ranged between $26.515 and $27.640.

Platinum prices for January delivery added $2.20, or 0.1 percent, to $1,771.10 an ounce. It ranged from $1,751.20 to $1,778.80.

December palladium surged $25.50, or 3.7 percent, to finish at $710.90 an ounce. Prices ranged between $681.60 and $713.95 — its best level since April 2001.
In PM London gold prices, the benchmark gold Fix was $1,388.50 an ounce, down $7.00 from Friday. The silver Fix was up 58 cents to $26.720.
"All in all, we predict the gold price to average $1,350 per troy ounce in the fourth quarter," said Commerzbank. "Gold could fall as low as $1,300 in spring of next year due to seasonal(ly) weaker demand before it's price reaches $1,450 per troy ounce by the end of the 2011." Commerzbank added that "in our opinion, by the end of the fourth quarter of 2011, silver will climb to $28 per ounce."
In London PGM metals, the platinum Fix was $1,752.00 an ounce for a loss of $12.00 while palladium gained $7.00 to $694.00 an ounce.
In bullion coin news, United States Mint American Eagles enjoyed their own rally on Monday. All but the fractional 1/10 oz Gold Eagle advanced in sales. The 1 oz gained 4,000, the 1/2 oz rose 1,000 and the 1/4 oz climbed 2,000. Silver Eagles added to their new annual record, jumping 225,000 for the day and topping the 29 million marker. The following are the latest U.S. Mint coin sales figures:
U.S. Mint 2010 Gold & Silver Bullion Coin Sales
November
2010 Totals
American Eagle Gold Coin (1 oz)
11,500
988,500
American Eagle Gold Coin (1/2 oz)
1,000
40,000
American Eagle Gold Coin (1/4 oz)
2,000
58,000
American Eagle Gold Coin (1/10 oz)
0
380,000
American Buffalo Gold Coin (1 oz)
Sold Out
209,000
American Eagle Silver (1 oz)
480,000
29,110,500