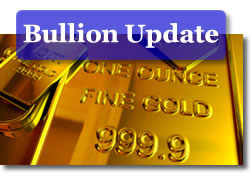 Precious metals prices rallied Monday as the U.S. dollar weakened and China said it would keep interest rates unchanged. Gold prices reached just over $1,400 an ounce before closing $2 shy of the psychological level.
"That which China did not do over the weekend (raise interest rates) provided fresh fuel for equity and commodities markets speculators for yet another day," noted Jon Nadler, senior analysts at Kitco Metals Inc.

"Although Saturday's release of statistical data indicated that inflation is indeed gaining strength in the world's second largest economy, the PBOC (for now) chose to remain mum on the subject of interest rates and opted to stick with the last round of reserve requirement hikes for banks," added Nadler.
In percent terms, silver prices outshined other metals on Monday with an increase of 3.6 percent. Palladium came in second at 2.7 percent while platinum finished third at 1.3 percent.
New York precious metals closing prices follow:
Gold prices for February delivery advanced $13.10, or 0.9 percent, to $1,398.00 an ounce on the Comex in New York. Prices ranged from a low of $1,380.80 to a high of $1,400.20. Gold is up 27.5 percent in 2010.
March silver prices soared $1.019 to $29.624 an ounce. They ranged from $28.495 to $29.740. Silver prices are up 75.9 percent this year.
Platinum prices for January delivery added $22.00 to $1,697.30 an ounce. The metal ranged between $1,671.60 and $1,704.30.
Palladium prices for March delivery jumped $19.75 to close at $752.45 an ounce. Palladium ranged from $734.50 to $765.85.
In PM London gold prices, the benchmark gold Fix was $1,399.00 an ounce, rising above the $1,375.25 PM price on Friday. The silver Fix came in at $29.330 an ounce for a gain of 54 cents. Platinum rose $26.00 to $1,69.00. Palladium added $24.00 to $761.00.
American Eagle bullion coins had been stuck in neutral since Wednesday, but newly published United States Mint figures on Monday moved sales sharply higher. The one-ounce Gold Eagle rallied 13,500 for the day while the one-tenth ounce joined the December sales board for the first time with a pick-up of 5,000.
Silver Eagle bullion coins leaped over 34 million in year-to-date sales after rising 730,000 on Monday.
As for the five ounce America the Beautiful Silver Bullion Coins Re-Launch on Friday, the United States Mint is yet to publish their debuting sales figures. While there is unquestionable fiery demand for them, investors and buyers are having a hard time tracking any down. Since the U.S. Mint is now requiring its authorized purchasers to sell them directly to the public and few are set up to handle such retail transactions, a number have said they are still debating on whether to even offer the .999 fine silver coins. It may take weeks before the limited supply of 2010 America the Beautiful Silver Bullion Coins make their way into buyers hands.
U.S. Mint 2010 Bullion Coin Sales
December*
2010 Totals
American Eagle Gold Coin (1 oz)
22,000
1,106,500
American Eagle Gold Coin (1/2 oz)
0
45,000
American Eagle Gold Coin (1/4 oz)
0
60,000
American Eagle Gold Coin (1/10 oz)
5,000
390,000
American Buffalo Coin (1 oz)
Sold Out
209,000
American Eagle Silver (1 oz)
1,422,000
34,312,500
December sales have an "as of date" of December 13.