The Bureau of Engraving and Printing (BEP) on Tuesday released its 2011 $2 Single Note Collection which includes a total of nine banknotes.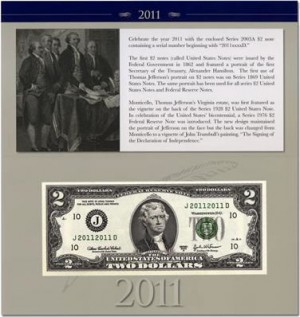 An opportunity to purchase three other extremely limited 2011 $2 single notes was limited to chance and for those who placed an order for the collection during a pre-release period of March 1-14, 2011.
Money collectors can order notes from the Federal Reserve Banks of New York, Richmond, Atlanta, Chicago, St. Louis, Minneapolis, Kansas City, Dallas and San Francisco. These bills may be purchased individually for the price of $7.95 or as a group for $71.55. The nine-note collection is limited to a maximum of 2,000 sets worldwide.
As for customers who pre-ordered, they have a chance at buying 2011 $2 single notes from the remaining Federal Reserve Banks of Boston, Philadelphia and Cleveland. A maximum of 150 total notes from these districts will be available.
"Customers who purchase the 2011 $2 Single Note Collection during the pre-release period will be entered into a drawing for the opportunity to purchase one note of the very limited remaining districts," the BEP states on its website.
All 12 notes feature a serial number starting with "2011xxxxD" and come within a protective, clear, acid-free polymer sleeve that is enclosed in an illustrated folder identifying the Federal Reserve District represented.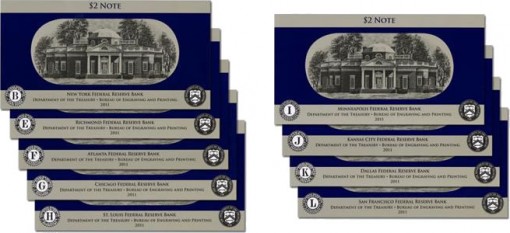 For more information on the collection, or to place an order, visit the BEP online store at http://www.moneyfactorystore.gov/.
About the BEP
The Bureau of Engraving and Printing is the largest producer of security documents in the United States. The BEP prints billions of Federal Reserve Notes for delivery to the Federal Reserve System each year (the BEP does not produce coins — all coinage is minted by the United States Mint). These notes are produced at facilities in Washington, DC, and Fort Worth, Texas. In addition to U.S. currency, the BEP produces several other security documents such as portions of U.S. passports, materials for Homeland Security, military identification cards, and Immigration and Naturalization Certificates.