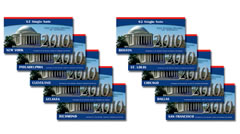 The Bureau of Engraving and Printing (BEP), the agency responsible for printing U.S. currency, has released the second and final installment in the 2010 $2 Single Note Collection. The entire set includes banknotes from each of the 10 available Federal Reserve Banks (excluding Minneapolis and Kansas City Districts).
Collectors can now purchase notes designated from the Federal Reserve Banks of Boston, Chicago, St. Louis, Dallas and San Francisco. Each is priced at $7.95.
The notes feature a serial number starting with "2010xxxxD" and come within a protective, clear, acid-free polymer sleeve that is enclosed in an illustrated folder identifying the Federal Reserve District represented.
The BEP issued the first installment of $2 notes from the Federal Reserve Banks of New York, Philadelphia, Cleveland, Richmond and Atlanta on January 7, 2010.
The 10-note collection is limited to a maximum 9,000 sets worldwide. The complete set may be purchased for $79.50.
For more information, or to place an order, visit the BEP online store at http://www.moneyfactory.gov/.