U.S. gold and silver prices retreated Tuesday, with gold dropping below $1,430 an ounce and silver retreating under $35.70 an ounce. Factors cited for losses include a rebounding U.S. dollar, easing oil prices and profit-taking.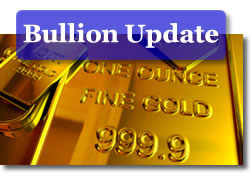 April gold prices retreated $7.30, or 0.5 percent, to $1,427.20 an ounce on the Comex in New York. Gold traded as low as $1,423.60 an ounce and as high as $1,437.20 an ounce.
"It's profit-taking as we have a stronger dollar. Certainly, it's a rotation out of the 'long gold, long metal long energies' trade, and stocks seem to be the beneficiary of it," Zachary Oxman, managing director of TrendMax Futures, was quoted on Reuters.
"As long as uncertainty persists on markets and the situation remains unclear, the price of gold should remain well supported. The dip … is therefore likely to be of a temporary nature," analysts with Commerzbank said in a note to clients that was recounted on MarketWatch.
Silver prices for May delivery lost 20.7 cents, or 0.6 percent, to close at $35.658 an ounce. It hit an intraday low of $35.510 and a high of $36.550.
Platinum prices for April delivery declined $17.80, or 1.0 percent, to $1,802.600 an ounce. It traded between $1,794.00 and $1,821.20.
Palladium prices for June delivery ended down $3.40, or 0.4 percent, to settle at $786.70 an ounce. Prices hit a low of $775.35 and a high of $793.95.
Earlier fixed London PM precious metals prices fell as well. The PM gold fix was $1,426.25 an ounce for a loss of $11.25 from its previous PM fixing. Silver dropped 23 cents at $36.37 an ounce. The platinum fixing was $1,808.00 an ounce for a loss of $30. Palladium was $781.00 an ounce, down $29.
Sales increased for American Silver Eagle bullion coins for the first time in more than a week, according to newly published figures from the United States Mint. The .999 fine silver coins jumped 668,500, entering the March sales tables for the first time. Year-to-date sales have just topped the 10 million milestone.
Additionally, the 1-ounce American Gold Eagle coins rose 2,000 and the 1/2-ounce Gold Eagles added 4,000.
The latest United States Mint sales figures follow.
U.S. Mint 2011 Bullion Coin Sales
March
2011 Totals
American Eagle Gold Coin (1 oz)
2,000
211,000
American Eagle Gold Coin (1/2 oz)
4,000
17,000
American Eagle Gold Coin (1/4 oz)
0
18,000
American Eagle Gold Coin (1/10 oz)
0
120,000
American Eagle Silver (1 oz)
668,500
10,330,500
For the latest news about the United States Mint, read the CoinNews.net article US Mint Reviews Product Pricing.