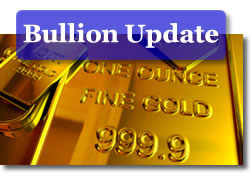 Gold and silver prices fell Thursday after climbing higher during the previous session. Gold dropped the furthest, nearly reaching a four-month low.
February gold prices declined $14.60, or 1.1 percent, to $1,318.40 an ounce on the Comex in New York. It was the lowest closing level for the yellow metal since October 4. It ranged from $1,315.70 to $1,347.50 an ounce. Gold has fallen 7.2 percent in 2011 after rising 29.7 percent in 2010.
"The gold market is seeing reduced safe-haven investment demand, what with the U.S. stock indexes trading near multi-year highs, no fresh headline news regarding European Union financial problems, and no major geopolitical flare-ups occurring," noted Jim Wyckoff of Kitco News.

"Indeed, investors worldwide have gained a better appetite for taking risk, which is hampering the safe-haven gold market. However, the gold market is still just one step away from a solid price rebound or an extended rally should a significant geopolitical or financial market event suddenly and unexpectedly appear in the news headlines."
Silver prices for March delivery fell 9.7 cents, or 0.4 percent, to $27.031 an ounce. Prices ranged from $26.775 to $27.795. Silver is down 12.6 percent this year. Last year the metal scored an annual gain of 83.7 percent.
Platinum and palladium snapped back from earlier day declines to rise. Both metals, unlike gold and silver, are also higher for the year.
Platinum prices for April delivery advanced $6.60, or 0.4 percent, to $1,803.50 an ounce. Prices ranged from a low of $1,792.00 to a high of $1,819.40. Platinum has risen 1.4 percent in 2011.
Palladium prices for March delivery added $8.90, or 1.1 percent, to $813.50 an ounce. It ranged from $802.05 to $819.00. Palladium is up 1.2 percent this year.
In PM London bullion prices, gold was fixed to $1,334.50 an ounce, $6.50 higher than the previous PM fixing. The London Silver Fix was $27.39 an ounce, up 29.0 cents. London platinum and palladium were higher as well. The platinum fixing rose $16.00 to $1,807.00 and the palladium fixing climbed $24.00 to $814.00.
U.S Mint bullion coin sales figures remained unchanged. The numbers have not advanced since Friday.
U.S. Mint 2011 Bullion Coin Sales
Daily Gain
January Totals
American Eagle Gold Coin (1 oz)
0
80,500
American Eagle Gold Coin (1/2 oz)
0
1,000
American Eagle Gold Coin (1/4 oz)
0
2,000
American Eagle Gold Coin (1/10 oz)
0
15,000
American Eagle Silver (1 oz)
0
4,724,000