Commodities were pounded Tuesday as weaker U.S. growth forecasts pushed oil futures down 3.3 percent and pressured gold and other precious metals prices.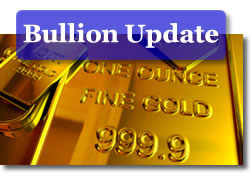 June gold prices fell $14.50, or 1.0 percent, to settle at $1,453.60 an ounce on the Comex in New York. Gold ranged from $1,445.00 to $1,468.50.
"Crude oil prices have backed off sharply after hitting a fresh 2.5-year high of $113.46 a barrel in early trading Monday. Goldman Sachs reportedly became more bearish the crude oil market, believing it has peaked or is close to peaking," noted Jim Wyckoff of Kitco News.

Wycoff said that a continued decline in crude "would would be a bearish weight on the precious metals markets." But also added that "if recent history repeats itself, the gold market once again will see some bargain-hunting buying interest on a significant downside price correction."
Analysts at Commerzbank said in a note to clients that a short term correction in gold prices is likely to continue, but:
"The medium-to long-term positive outlook is still intact, especially for gold… Gold should remain in demand as a safe haven in any case and the price should be well supported. Speculators and jewelry traders are likely to see lower prices as an attractive buying opportunity."
Silver prices for May delivery lost 54.6 cents, or 1.3 percent, to $40.066 an ounce, breaking a six-session winning streak. Silver traded from a low of $39.705 to a high of $40.910.
Platinum prices for July delivery ended down $18.50, or 1.0 percent, to $1,774.30 an ounce. Prices ranged between $1,770.40 and $1,796.50.
Palladium prices for June delivery plunged $18.15, or 2.3 percent, to close at $770.10 an ounce. They hit an intraday low of $765.50 and a high of $788.55.
London PM fix precious metals prices moved lower as well as compared to their PM fixings on Monday. The PM gold fix dropped $17.50 at $1,450.50 an ounce. Silver lost 93.0 cents at $40.440 an ounce. The platinum fix declined $17.00 at $1,785.00 an ounce. Palladium lost $12.00 at $783.00 an ounce.
U.S. Mint bullion coin sales figures remained unchanged from Monday.
U.S. Mint 2011 Bullion Coin Sales
April 2011
YTD 2011
American Eagle Gold Coin (1 oz)
43,000
306,500
American Eagle Gold Coin (1/2 oz)
0
21,000
American Eagle Gold Coin (1/4 oz)
0
38,000
American Eagle Gold Coin (1/10 oz)
10,000
170,000
American Gold Buffalo Coin (1 oz)
6,000
44,000
American Eagle Silver (1 oz)
1,374,000
13,803,000