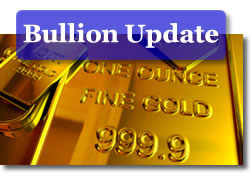 U.S. gold rose 1.2 percent and to a three-week high Tuesday as inflation concerns were heightened following news that China raised its interest rates. Silver was the biggest jumper in precious metals, shooting above $30 an ounce and a level not seen since early January.
April gold prices rose $15.90 to $1,364.10 an ounce on the Comex in New York. It was the best closing price for gold since January 19. The metal ranged from $1,348.90 to $1,368.70.
"While some commodity markets were initially pressured on the idea that higher interest rates in China would crimp demand, traders soon reckoned demand for raw commodities from China will remain strong," wrote Jim Wyckoff of Kitco News. "Gold traders, in particular, focused on the inflationary aspects of the China rate hike being bullish for gold."

"Gold is moving higher after China validated inflation," George Gero, a vice president at RBC Wealth Management, said and was quoted on MarketWatch.
Silver prices for March delivery soared 92.8 cents, or 3.2 percent, to $30.271 an ounce — its best point since January 4. It ranged from $29.260 to $30.285.
Platinum and palladium hit multi-year highs. Platinum finished at a 2 1/2 year high and palladium closed to a 10-year high.
Platinum prices for April delivery advanced $17.70, or 1.0 percent, to $1,861.90 an ounce. Prices ranged from a low of $1,838.40 to a high of $1,867.40.
Palladium prices for March delivery surged $19.40, or 2.4 percent, to $838.45 an ounce. It ranged from $815.75 to $839.50.
In PM London bullion prices, the gold fixing was $1,363.50 an ounce, rising $16.00 from the previous PM fixing. The London Silver Fix was $29.42 an ounce, up 21 cents. Platinum and palladium matched dollar gains for a second straight day, advancing $3.00 each. Platinum was $1,848.00 an ounce and palladium was $823.00 an ounce.
Buyers scooped up more one-ounce bullion coins from the United States Mint on Tuesday. American Gold Eagles rose 6,500 for the day while American Silver Eagles increased by 59,000. The latest United States Mint bullion sales figures follow.
U.S. Mint 2011 Bullion Coin Sales
February
2011 Totals
American Eagle Gold Coin (1 oz)
19,000
149,500
American Eagle Gold Coin (1/2 oz)
0
1,000
American Eagle Gold Coin (1/4 oz)
2,000
4,000
American Eagle Gold Coin (1/10 oz)
5,000
25,000
American Eagle Silver (1 oz)
897,000
7,319,000