The United States Mint today made available rolls and bags of 2011 Kennedy Half Dollars.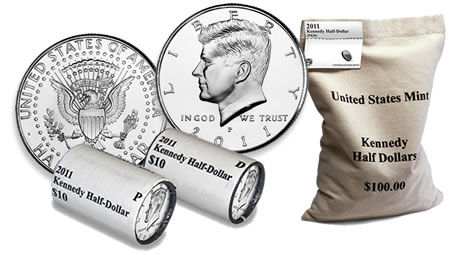 The bags are priced at $134.95 and include a face value of $100 — 100 coins from the Philadelphia Mint and another 100 from the Denver Mint.
The two-roll sets are listed at $34.95. Each roll contains 20 Kennedy Halves that were produced in either Philadelphia or Denver. The roll of coins are wrapped in US Mint branded paper that displays a "P" or "D," representing the roll's mint of origin and its face value of $10.00.
Kennedy Half Dollars are unique in that the US Mint no longer produces them for use in every day change, but instead for collectors in circulation strike condition.
The most recent production figures for January indicate the US Mint has produced 3.45 million of the coins, split out between Denver (1.7 million) and Philadelphia (1.75 million). There is a good chance those numbers will not increase for the remainder of the year. If they do, odds are they will rise only modestly.
Coin production levels for the Kennedy 50c pieces has fallen in recent years. Last year's output total was 3.5 million, with 1.7 million from Denver and 1.8 million from Philadelphia. The US Mint increased production in 2009 as demand rose, which was due in part by the focus on the Kennedy family following the passing of Ted Kennedy on August 26, 2009. The mintage levels climbed to 1.9 million at each Mint facility for a combined total of 3.8 million. The mintages for 2008 were lower at 3.4 million, split evenly between facilities. A decade ago Kennedy Half Dollar mintages were just over 40 million.
Kennedy Half Dollar Order Information
The offerings are available directly from the Mint, online at:
United States Mint Product Page
Orders may also be placed by calling the Mint's toll-free number, 1-800-USA-MINT (872-6468). Hearing and speech-impaired customers may order by calling 1-888-321-MINT (6468). There is no order limit on these products.
The half dollar features a 1963 portrait of President John F. Kennedy by Gilroy Roberts. The reverse, or tails side, depicts Frank Gasparro's heraldic eagle with shield, reminiscent of the presidential seal.