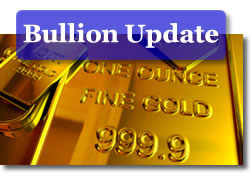 U.S. precious metals declined Friday as the U.S. dollar gained ground and after news that Egyptian President Hosni Mubarak resigned cut into safe-haven gold demand. However, the yellow metal still gained on the week, capping a string of three weekly increases.
April gold prices edged down $2.10, or 0.2 percent, to $1,360.40 an ounce on the Comex in New York.
"The geopolitical risk and the incentive to buy gold on the back of that are probably reduced," Hayden Atkins, an analyst at Macquarie was quoted on Reuters in response to the latest news out of Egypt. "Tension will still be simmering, but it won't be as big a news story for people to trade off."
Gold reached an intraday low of $1,354.30 an ounce and a high of $1,369.70 an ounce. The U.S. dollar outperformed the euro and yen, which was also bearish for gold.
"Some of the dollar strength is hurting gold," Frank McGhee, the head dealer at Integrated Brokerage Services LLC in Chicago, was cited on Businessweek. "If gold doesn't rally from here, it's going to trigger a lot of sell signals."
Gold prices rose 0.8 percent this week but they are still down 4.3 percent for the year.
"The gold market has rallied to its current levels on the unrest in Egypt, reversing a slide in price during January that sent April futures as low as $1,309," noted Debbie Carlson of Kitco News. "Even with Mubarak leaving office, it's unlikely that gold prices will fall back to the levels they were at prior to the Egyptian protest."
Silver prices for March delivery lost 9.9 cents, or 0.3 percent, to $29.995 an ounce. It ranged from $29.685 to $30.285. Despite late week losses, however, silver also marked its third straight week of gains with an advance of 3.2 percent. That reduced its 2011 loss to 3.0 percent.
Platinum prices for April delivery fell $17.30, or 0.9 percent, to $1,813.50 an ounce. Prices ranged from a low of $1,803.05 to a high of $1,840.20. Platinum plunged 1.7 percent this week, but it is still 2.0 percent higher this year.
Palladium prices for March delivery declined $6.20, or 0.8 percent, to $814.70 an ounce. It ranged from $805.00 to $828.90. Palladium edged down 0.2 percent this week but it is up 1.4 percent in 2011.
In PM London bullion prices, the gold fixing was $1,364.00 an ounce for a loss of $1 from the previous PM fixing. The London Silver Fix was $30.00 an ounce, down 22 cents. The platinum fixing declined $29.00 to $1,829.00 and the palladium fixing fell $13.00 to $822.00 an ounce. All but platinum gained on the week. Increases were 0.7 percent for gold, 3.8 percent for silver, and 1.1 percent for palladium. Platinum declined 0.5 percent this week.
United States Mint buyers snapped up one-ounce American Gold Eagles and American Silver Eagles on Friday. The 22-karat Gold Eagle coins rose 12,500 for the day and 25,500 for the week. The .999 fine Silver Eagle coins added 49,500 on Friday and 860,000 on the week. The latest United States Mint bullion sales figures follow.
U.S. Mint 2011 Bullion Coin Sales
Weekly Gains
February
2011 Totals
American Eagle Gold Coin (1 oz)
25,500
38,500
168,500
American Eagle Gold Coin (1/2 oz)
0
0
1,000
American Eagle Gold Coin (1/4 oz)
0
2,000
4,000
American Eagle Gold Coin (1/10 oz)
0
5,000
25,000
American Eagle Silver (1 oz)
860,000
986,500
7,408,500