The United States Mint on Wednesday lowered several of its numismatic coin prices following a series of daily losses in precious metals.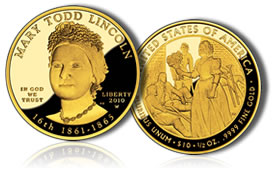 The only coins affected in this round of price reductions were the Mint's 24-karat American Buffalo Gold and First Spouse Gold Coins. That is because newer year numismatic issues are yet to be launched and all of last year's proof Platinum and Gold Eagles have sold out — the final two Gold Eagles on Tuesday.
The price for the Proof American Buffalo Gold Coin was reduced by $50 from $1,660 to $1,610.
The US Mint is currently offering four proof and four uncirculated First Spouse Gold Coins. Their prices have dropped by $25. The proofs have been lowered from $854 to $829 and the uncirculated gold coins reduced from $841 to $816.
Buyers may order the coins through the US mint website http://catalog.usmint.gov.
The threshold for the US Mint's current coin pricing is based on a London Fix gold weekly average of between $1,300.00-$1,349.99 an ounce. The average from last Thursday AM to Wednesday AM dropped to $1,341.50 an ounce, which was under the $1,350 barrier and triggered the changes.
For Buffalo and First Spouse Gold Coin repricing to occur again, the yellow metal's average will need to move below or above the $1,300.00-$1,349.99 an ounce range.
The US Mint has indicated that it expects to offer the collector 2011 Gold Eagle Proof Coins beginning on April 21. The one-ounce 2011 Gold Eagle Uncirculated Gold Coin is scheduled to launch on May 5. The 2011 Platinum Eagle Proof Coin is expected to be available on May 26. And the 2011 American Buffalo Gold Proof Coin will be issued on April 18. These coins, along with new First Spouse issues, will be subject to potential weekly price changes when they are released.
Price tweaks are typically infrequent. The last time the higher-end priced numismatic coins had been updated was on November 10. That was during a time when bullion prices shot skyward in a sustained streak that culminated with gold's impressive 30 percent gain in 2010. The yellow metal has fallen over 6 percent this year.
US Mint bullion gold coins, which have a different finish and do not carry a mintmark like their numismatic counterparts, have their prices adjusted daily based on gold prices.