The United States Mint around noon ET raised the prices for all its numismatic 24-karat gold coin products.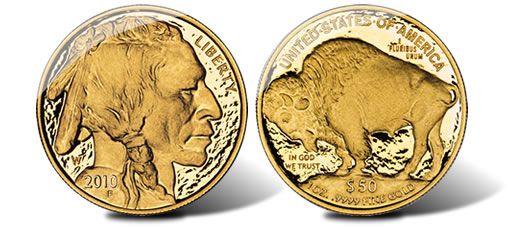 The US Mint increased its gold coin prices on Wednesday, including that of the Buffalo coin, shown here.
The increases came about as a response to higher gold prices and the Mint's policy to raise or lower its products when the yellow metal makes large weekly swings.
The US Mint uses the average of the previous Thursday AM to current Wednesday AM London gold fixing as the main indicator in determining whether coin price adjustments are necessary. That average shot up to $1,462.58 an ounce, topping the Mint's $1,450 threshold and triggering increases of $25 for all 24-karat First Spouse Gold Coins and $50 for the 24-karat proof American Buffalo Gold piece.
The US Mint normally has a minimum of eight First Spouse Gold Coins on sale at any given time. However, a delay in the launch of the first 2011-dated issue and sell outs of past issues leave only three that have had their prices raised. Increases include:
Proof Mary Todd Lincoln First Spouse went from $879 to $904
Uncirculated Mary Todd Lincoln First Spouse went from $866 to $891
Proof Abigail Fillmore First Spouse went from $879 to $904
The 2010-dated proof American Buffalo went from $1,710 to $1,760, marking its fifth $50 increase. The 24-karat gold coin went on sale June 3 for a price of $1,510 when the London fixing for gold was $1,215 an ounce.
The US Mint last raised collector coin prices on March 2, 2011 when the average price of the precious metal rose above $1,400 an ounce.