The United States Mint started selling the 2011 Silver Proof Set today for a price of $67.95, plus shipping and handling.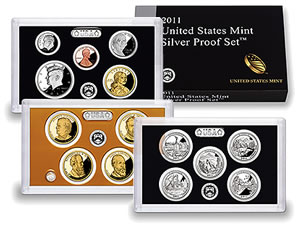 The January release was announced in September, and is a part of the US Mint plan to launch core products earlier in the year.
The set includes fourteen proof coins which the US Mint describes as "extraordinarily brilliant, with sharp relief and a mirror-like background." Half of them are composed of 90 percent silver, totaling 1.34 ounces of the metal which is worth about $36 at a silver price of $27 an ounce.
The coins are produced at the US Mint in San Francisco and as collectibles, bear the "S" mintmark. Within the 2011 Silver Proof Set are:
(4) 2011-S Presidential Dollars (honoring Presidents Andrew Johnson, Ulysses S. Grant, Rutherford B. Hayes and James Garfield)
(1) 2011-S Native American $1 Coin (this year's reverse is emblematic of the peace alliance created by the 1621 Wampanoag Treaty)
(1) 2011-S Kennedy half-dollar
(5) 2011-S America the Beautiful Quarters (honoring Gettysburg National Military Park in Pennsylvania, Glacier National Park in Montana, Olympic National Park in Washington, Vicksburg National Military Park in Mississippi and Chickasaw National Recreation Area in Oklahoma)
(1) 2011-S Roosevelt dime
(1) 2011-S Jefferson nickel
(1) 2011-S Lincoln cent
The half dollar, 2011 America the Beautiful Quarters®, and dime are all minted in 90 percent silver.
The proof coins are contained within three protective lenses, as shown in the US Mint image above.
Last year's issue is still available from the US Mint at its original price of $56.95. It went on sale on August 26. The latest sales figures as of Sunday indicate buyers have now ordered 526,225 of them.
Order from US Mint
The US Mint 2011 Silver Proof Set may be purchased directly through its online store at:
Orders may also be placed using the Mint's toll-free number, 1-800-USA-MINT (872-6468). Hearing and speech-impaired customers may order by calling 1-888-321-MINT (6468).