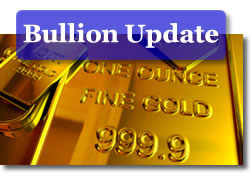 Precious metals rose Tuesday following an extended U.S. holiday weekend and after prices plunged on Friday. Palladium rallied best, gaining 2.5 percent. Silver followed with a 2.1 percent increase while platinum and gold brought up the rear with respective gains of 0.7 and 0.6 percent.
At day's end, February gold prices added $7.70 to settle at $1,368.20 an ounce on the Comex in New York. Prices ranged from $1,356.80 to $1,376.00. A weaker U.S. dollar, bargain hunting and improved physical demand were among the factors noted in lifting metal prices.
"Every time gold goes down, people see it as a buying opportunity, and there is a lot of good physical buying from Asia coming into the market place," Miguel Perez-Santalla, Vice President of sales at Heraeus Precious Metals Management, said and was quoted on Reuters.
Silver prices for March delivery surged 59.2 cents to $28.912 an ounce. They ranged from $28.050 to $29.080.
Platinum prices for April delivery ended up $12.30 to $1,828.30 an ounce. Platinum ranged between $1,803.20 and $1,832.30.
Palladium prices for March delivery soared $20.10 to $811.75 an ounce. Palladium ranged from $790.00 to $810.10.
"Also aiding the renewed wave of bullion purchases were lingering euro and European debt-centric investor apprehensions that came on the heels of the Brussels meeting of EC Finance Ministers," noted Jon Nadler, Senior Analyst at Kitco Metals Inc. "Fears that the difficult debt situation on display in the Old World will persist (despite recent successful bond auctions by Portugal and most recently by Spain as well) have evidently not been allayed just yet."
In PM London bullion prices, the benchmark gold Fix was $1,369.50 an ounce for a gain of $9.00 from the previous PM fixing. London silver was fixed 60 cents higher to $28.790 an ounce. Platinum was $1,824.00 an ounce for an increase of $21.00. Palladium was $805.00 an ounce, up $15.00.
U.S. Mint authorized buyers apparently re-filled their inventories after the dip in bullion prices, as American Eagle bullion coin sales jumped. American Silver Eagles are roaring. January sales are at 4,588,000, already marking the best ever in monthly sales for the series which debuted in 1986. The following are the latest totals:
U.S. Mint 2011 Bullion Coin Sales
Daily Gain
January Totals
American Eagle Gold Coin (1 oz)
12,000
73,000
American Eagle Gold Coin (1/2 oz)
0
1,000
American Eagle Gold Coin (1/4 oz)
2,000
2,000
American Eagle Gold Coin (1/10 oz)
0
15,000
American Buffalo Coin (1 oz)
Not Yet Offered
American Eagle Silver (1 oz)
1,181,000
4,588,000