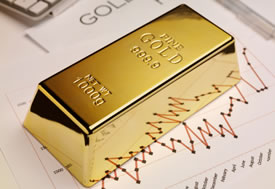 Gold advanced Tuesday, snapping a two-session losing streak. The yellow metal was supported by a weaker U.S. dollar and U.S. inflation data that was read bullishly.
Gold prices for December delivery settled up $8.70, or 0.5%, to $1,746.30 an ounce on the Comex in New York. Gold traded between $1,736.10 and $1,748.90.
"From an inflation standpoint, the fact that the CPI is in line gives the Fed more room to continue easing," Reuters quoted Adam Sarhan, CEO of Sarhan Capital.
Today, the monthly Consumer Price Index (CPI) report from the U.S. Labor Department showed that inflation in September rose 0.6% for a second month. Core inflation, which excludes energy and food prices, advanced 2% over the past 12 months — right at the Federal Reserve's target area. Although gold has traditionally been purchased as a hedge against inflation, it has more recently gained as a result of Fed stimulus measures and data that supports continued easing.
Silver for December delivery gained 21.6 cents, or 0.7%, to $32.959 an ounce. Prices ranged from $32.655 to $33.080.
Platinum for January delivery closed at $1,645.20 an ounce, rising $12.90 or 0.8%. The precious metal traded between $1,635.00 and $1,652.70.
Palladium for December added $6.35, or 1.0%, to $638.95 an ounce, ranging from $631.50 to $642.40.
London Precious Metals Prices
London precious metals were mixed Tuesday. In contrasting London PM Fix prices:
Gold added $10.50, or 0.6%, to $1,746.50 an ounce,
Silver fell 42.0 cents, or 1.3%, to $32.80 an ounce,
Platinum dipped $1.00, or 0.1%, to $1,640.00 an ounce, and
Palladium gained $2.00, or 0.3%, to $639.00 an ounce
U.S. Mint Bullion Coin Sales for October and YTD
Until today, October gains in U.S. bullion coins had atypically occurred only later in the week. Demand jumped Tuesday as U.S. Mint distributors ordered 16,000 ounces of gold coins and 420,000 ounces of silver coins. Both increases were significantly better than sales through all of last week when 11,500 ounces of gold coins were sold and 177,500 ounces of silver coins moved.
The following table provides the most recent daily, October and year-to-date bullion sales figures as provided by the U.S. Mint.
Sales of US Mint American Eagle and Buffalo Bullion Coins
Daily Sales
October Sales
YTD 2012
$50 American Eagle Gold Coins
13,000
29,000
439,500
$25 American Eagle Gold Coins
0
0
61,000
$10 American Eagle Gold Coins
2,000
2,000
64,000
$5 American Eagle Gold Coins
5,000
15,000
265,000
$50 American Buffalo Gold Coins
2,000
7,500
104,000
American Eagle Silver Coins
410,000
1,818,000
27,613,000
Sales of America the Beautiful 5 Oz. Silver Bullion Coins
Daily Sales
October Sales
All-Time Total
2012 El Yunque National Forest 5 oz. Silver Bullion Coins
0
0
17,900
2012 Chaco Culture National Historical Park 5 oz. Silver Bullion Coins
1,000
1,000
18,200
2012 Acadia National Park 5 oz. Silver Bullion Coins
0
500
18,500
2012 Hawai'i Volcanoes 5 oz. Silver Bullion Coins
1,000
1,000
11,400
2011 Olympic National Park 5 oz. Silver Bullion Coins
0
0
85,900
2011 Vicksburg National Military Park 5 oz. Silver Bullion Coins
0
0
39,500
2011 Chickasaw Park 5 oz. Silver Bullion Coins
0
0
29,700
TOTAL
2,000
2,500
221,100