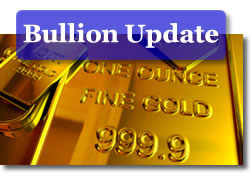 U.S. precious metals were mixed on Thursday. Gold and silver edged lower, marking a third straight day of declines with respective new losses of 0.1 and 0.2 percent. Palladium dropped the most, falling 1.6 percent after it was the single precious metal to rise during the previous session. Platinum grabbed the winning role on Thursday, advancing a modest 0.1 percent.
February gold prices retreated $2.00 to $1,371.70 an ounce. They ranged from $1,364.30 to $1,380.00. Increasing optimism about the U.S. economy was a common theme in explaining the dollar's gain which pressured gold.
"There is always the fear that once the rebound in the U.S. gets cemented and attracts higher interest rates, investors start shifting money out of gold and into equities," Mitsubishi analyst Matthew Turner said and was quoted on Reuters.
Silver prices for March delivery ended down 7.2 cents to $29.126 an ounce. They ranged from $28.815 to $29.600.
Platinum prices for April delivery gained $1.00 to $1,735.10 an ounce. Platinum ranged between $1,727.00 and $1,745.30.
Palladium prices for March delivery lost $12.40 to $762.90 an ounce. Palladium ranged from $758.50 to $778.50.
In PM London bullion prices, the benchmark gold fixing was $1,368.50 an ounce for a gain of 50 cents. Silver fell 13.0 cents to $29.080. Platinum was $1,731.00 an ounce for an increase of $9.00. Palladium was $766.00, up $12.00.
For a second straight day, the United States Mint sold more one-ounce Gold and Silver Eagles. The bullion Gold Eagles advanced 9,000 versus the previous 5,000 and the Silver Eagles rose 55,000 compared to 389,000. The following are the latest U.S. Mint bullion coin sales figures:
U.S. Mint 2011 Bullion Coin Sales*
Daily Gain
January Totals
American Eagle Gold Coin (1 oz)
9,000
22,500
American Eagle Gold Coin (1/2 oz)
0
0
American Eagle Gold Coin (1/4 oz)
0
0
American Eagle Gold Coin (1/10 oz)
0
5,000
American Buffalo Coin (1 oz)
Not Yet Offered
American Eagle Silver (1 oz)
55,000
2,140,000
*The U.S. Mint one-ounce bullion gold and silver 2011 American Eagles launched on January 3. However, the Mint has remaining inventory of the 2010-dated eagles still in vaults. As a result, figures above are 2011 coin sales and not year-dated coins sold.