The iconic image of a ram's head will once again grace Australia's newest $1 coin as revealed on New Year's Day at the Royal Australian Mint in Canberra.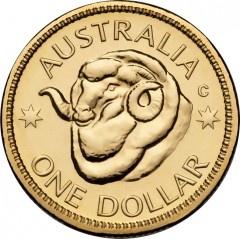 Originally appearing on the one shilling from 1938 to 1963, the Royal Australian Mint has returned to this familiar design to recognise one of Australia's longest running industries.
"This new $1 ram's head coin design continues our celebration in 2011 of Australian wool and the role it played in the development of modern Australia", said Assistant Treasurer, Bill Shorten.
The original design of the ram was modelled on a champion Merino at the Annual Sydney Sheep Show in 1932 and came to be known as the "Shilling Ram," Mr Shorten said.
"This collectible coin is an exclusive offer and one which will be sought after by many collectors. It is only available to make at our store in Canberra and bears a 'C for Canberra' mark on it, making it a memento to keep forever," said CEO of the Royal Australian Mint, Mr Ross MacDiarmid.
"The dies in the gallery press will be changed to the "Ram's head" design on New Year's Eve, giving one lucky visitor to the Mint on New Year's Day the rare opportunity to strike the very first collector coin for 2011," Mr MacDiarmid said.
"In the past, coin collectors have lined up at sunrise for the chance to be amongst the first people in the world to mint the first coin for the year – and this year I imagine it will be no different."
"The following 99 visitors who make a coin on the visitor press will also take home a special prize and certificate proving they were some of the first people in the world to make a coin at the Mint in 2011."
For more information on the Royal Australian Mint or an image of the ram's head dollar please visit www.ramint.gov.au.
About the Royal Australian Mint

His Royal Highness, The Duke of Edinburgh, officially opened the Royal Australian Mint, Canberra, on Monday 22nd February 1965.
The Mint was commissioned to produce Australia's decimal coinage, which was to be introduced into circulation on 14th February 1966. The Royal Australian Mint holds a place in history as the first mint in Australia not to be a branch of the Royal Mint, London.