Director of the United States Mint Ed Moy announced that he would be resigning from his post effective January 9, 2011, to accept a position in the private sector.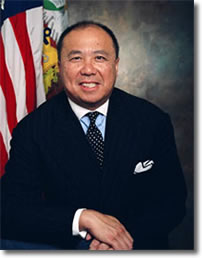 His resignation was submitted to Barack Obama, President of the United States. Moy also informed Secretary of the Treasury Timothy Geithner and Treasurer of the United States Rosie Rios.
Moy will have served in the role for slightly more than 4 years and 4 months, after having been sworn in as the 38th Director of the United States Mint on September 6, 2006. He was appointed for a five-year term by President George W. Bush and continued to serve at the pleasure of President Obama. His term was set to end in September 2011.
"What is surprising is how long he has lasted into the Obama administration," David Ganz, a former president of the ANA and a columnist for Numismatic News, said and was quoted by the Wall Street Journal. "If you look back 50 years, there's no Mint director that has served a full term when there has been a change of administration."
Moy, who collected coins as a child, was at the helm of the US Mint during four very eventful years. Notable US Mint issues during this time-frame include the Abraham Lincoln Bicentennial related releases of 2009. This included four new circulating cent coins featuring reverse designs emblematic of four stages in the life of Lincoln — Birthplace, Formative Years, Professional Life and Presidency.
It also included the extremely popular Abraham Lincoln Bicentennial Commemorative Silver Dollars which sold out their entire mintage of 450,000 in less than six weeks. Even more popular was a Lincoln Coin and Chronicles Set released later in the year. It contained a Proof Lincoln Silver Dollar and four proofs of the 2009 Lincoln cents. The set sold out of its allotted 50,000 units in less than 48 hours.
Collectors also clamored to obtain the 2009 Ultra High Relief $20 Double Eagle Gold Coin which was struck to resemble the original intentions that artist Augustus St. Gaudens had for the piece when he designed it for the 1907 Double Eagle. In just one day, collectors ordered 28,173 of the coins despite each one selling for $1,189.
"Like most coin collectors, I love the Augustus Saint-Gaudens 1907 Double Eagle. It is everything that makes a coin produced in the United States great: truly American, capturing our national spirit, and a stunning work of art," Ed Moy told the crowd when the UHR was first revealed. "The United States Mint is proud to render Saint-Gaudens' vision in a way that honors our past and raises the bar for the future. One hundred years from now, I believe the 2009 Ultra High Relief Double Eagle Gold Coin will be remembered as the birth of the greatest American century in coin-making history."
There were also many tough decisions that faced Moy as Director. Perhaps none more so than the cancellation of the Proof and Uncirculated Gold and Silver American Eagles in 2009. The US Mint, at the time, was facing intense demand for the bullion versions of the coins, which it was required by law to strike to meet demand. As such, the decision was made to cancel the numismatic eagles to allow all available blanks to be used for the bullion coins.
Among the new multi-year coin series that debuted during his tenure as director include:
Presidential $1 Coins
First Spouse Gold Coins
Native American $1 Coins
America the Beautiful Quarters®
America the Beautiful Silver Bullion Coins™
During Moy's time, the US Mint also expanded and promoted free educational materials and lesson plans for children. As a testament to Moy's commitment to education, during the many ceremonial coin releases throughout the U.S. and its territories, a key time during each event and one Moy obviously enjoyed was interacting with children and giving them a free coin commemorating the occasion.
Moy told US Mint employees:
"I'm proud of the progress we've made over four and a half years. The Mint is a better place and delivering more value to the American taxpayers. The foundation has been rebuilt and the work is now in your capable hands. Please know that I will always remember my being Director of the United States Mint as a special time in my life."
President Obama must now appoint a new director.
Moy will join L&L Energy, Inc., a Seattle-based energy company. He will assume the position of vice president of corporate infrastructure.
Moy graduated from the University of Wisconsin in 1979 with a triple major in economics, international relations, and political science before working for Blue Cross Blue Shield United of Wisconsin for ten years. From 1989 to 1993, he was a political appointee at the federal Health Care Financing Administration at the U.S. Department of Health and Human Services under President George H. W. Bush. Then in 1993, he went back into the private sector for eight years where he worked at corporations like Wall Street private equity firm Welsh, Carson, Anderson & Stowe. Moy returned to public service under President George W. Bush where he served as Special Assistant to the President for Presidential Personnel at the White House before being appointed to the Director of the Mint in 2006.