After one year of availability, the United States Mint will no longer offer Margaret Taylor First Spouse Gold Coins after 12:00 Noon ET on December 2, 2010 — the same time the new Mary Todd Lincoln gold coins become available.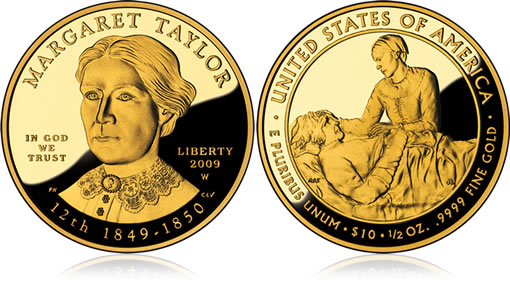 The one-half ounce 24 karat First Spouse Gold Coins made the debut December 3, 2009. They were the last of five issues during the year, and are the 13th in the series.
Their launch prices were much more attractive back then with the proof piece opening at $754 and the uncirculated coin at $741. But gold was also much cheaper in 2009 with the London Fix PM gold price on December 3, 2009, at $1208.75.
Today, the London Fix PM price came in at $1383.50, which is higher by $175. More expensive gold pushed prices higher for Margaret Taylor First Spouse Gold Coins. Each Taylor gold piece is now $100 more than when they launched. The proof is $854 and the uncirculated is $841.
Low Mintage
The First Spouse Gold Coin series made its debut in 2007. The first several quickly sold out despite their 20,000 per coin mintage. The latest releases have not come close to approaching those levels, nor has any sold out. In fact, when the Margaret Taylor First Spouse Gold Coins go off sale, the proof could have the lowest sales figures of any of the no longer offered issues. The uncirculated may end with the third lowest total. Their respective sales as of Sunday, November 21, are 4,787 and 3,430. If history is any lesson, the low mintage levels could make the coins more appealing and valuable in the long run.
The coins feature a portrait of Taylor on the obverse. It was designed by Phebe Hemphill and sculpted by Charles L. Vickers. The reverse features an image of a younger Margaret attending to a wounded soldier during the Seminole War. It was designed by Mary Beth Zeitz and sculpted by Jim Licaretz.
Orders for the Taylor gold coins may be placed on the US Mint website (www.usmint.gov), or by calling 1-800-USA-MINT (872-6468).