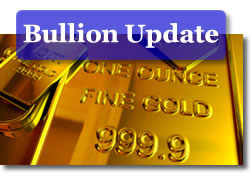 Gold prices rose 1.2 percent on Thursday, marking their biggest increase in two weeks and recovering just over half of the $31.60 lost during the previous two sessions. A falling U.S. dollar and investor bargain-hunting were among the factors proffered for gains.
Other precious metals rallied as well, with palladium jumping the most with an increase of 6.2 percent. Silver followed at 5.2 percent while platinum came in third with a pick-up of 1.4 percent.
"We're seeing some support off the weak dollar and renewed buying interest" Stephen Platt, an analyst with Archer Financial Services in Chicago, was quoted on MarketWatch. "The question is, is it just a retracement or the start of a new uptrend?"
New York precious metals closing prices follow:
Gold prices for December delivery rose $16.10 to $1,353.00 an ounce. It ranged between $1,334.00 and $1,359.00. Gold prices are up 23.4 percent in 2010.
December silver prices advanced $1.323 to close at $26.834 an ounce. It ranged from $25.590 to $27.040. Silver has surged 59.3% this year. Late Wednesday, London-based research firm GFMS said silver is likely to trade over $30 an ounce in 2011, with an annual average of about $28.
Platinum prices for January delivery added $23.00 to $1,663.90 an ounce. It ranged between $1,634.50 and $1,671.90.
Palladium prices for December delivery ended up $40.65 to $695.50 an ounce. It ranged from $661.70 to $698.55.
In PM London gold prices, the benchmark gold Fix was up $12.75 to $1,350.25 an ounce.
"At one point, everyone was selling commodities. People had been good buyers, everyone had put risk back on the books, and suddenly they got panicky about China and started liquidating, and gold got caught up in that," Simon Weeks, head of precious metals at the Bank of Nova Scotia, was cited on Reuters.

But I do think it will reassert itself on the crosses at some point as a currency, because clearly people don't like the currency markets. Generally speaking, whichever currency you are looking at, people aren't really that comfortable," he said.
London silver was fixed to $26.570 an ounce, gaining $1.37 from Wednesday. Platinum was $1,656.00 an ounce, rising $19.00. Palladium was higher by $35.00 to $684.00 an ounce.
Following three days of soaring sales, the United States Mint did not publish new sales figures Thursday for its bullion coins products. The following numbers remain unchanged from Wednesday:
U.S. Mint 2010 Gold & Silver Bullion Coin Sales
November
2010 Totals
American Eagle Gold Coin (1 oz)
59,500
1,036,500
American Eagle Gold Coin (1/2 oz)
4,000
43,000
American Eagle Gold Coin (1/4 oz)
2,000
58,000
American Eagle Gold Coin (1/10 oz)
5,000
385,000
American Buffalo Gold Coin (1 oz)
Sold Out
209,000
American Eagle Silver (1 oz)
3,175,000
31,805,500