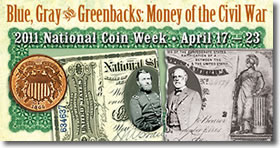 The theme for next year's 88th annual National Coin Week is "Blue, Gray and Greenbacks." The 2011 National Coin Week theme will help collectors commemorate the American Civil War and the "numismatic changes and innovations during the conflict."
Every year during the third week of April, the American Numismatic Association (ANA) and its members enjoy a weeklong celebration with numismatic exhibits, treasure hunts, fun educational activities and other programs honoring a historic event or person and its impact on coins and paper money.
The 2011 National Coin Week will kick off in earnest on April 17 and last through April 23, 2010. Before then, on every Monday beginning in March, the ANA will release online clues and questions to "hunt for numismatic objects and answers." The challenges will follow a virtual tour of the battlefields and other events during the American Civil War, a conflict which began on April 12, 1861, when shots were fired at Fort Sumter, South Carolina.
"Clubs can participate in a competition this March and April testing American Civil War numismatic knowledge and research. Students across the country will be encouraged to create coin and note designs honoring the war and the people who experienced it," the ANA states on its 2011 National Coin Week web page. "Prizes relating to the War Between the States will be awarded for individual, club and student activities."
The first National Coin Week was established by the ANA in 1924. For more information about the 2011 National Coin Week, call 719-482-9814, e-mail ncw@money.org or visit:
http://www.money.org/Content/NavigationMenu/NumismaticEvents/NationalCoinWeek/default.htm
About the ANA
The American Numismatic Association is a congressionally chartered nonprofit educational organization dedicated to encouraging people to study and collect money and related items. The ANA helps its members and the public discover and explore the world of money through its vast array of education and outreach programs, as well as its museum, library, publications, conventions and seminars. For more information, call 719-632-2646 or visit www.money.org.