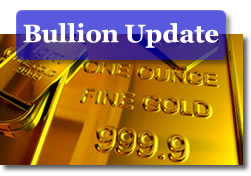 Markets shifted mostly lower Wednesday as speculation was abound that monetary easing measures by the Fed to boost the economy might be less than first expected or gradual in nature. The news propped the U.S. dollar, which further pressured gold and other commodities. The yellow metal fell 1.2 percent and to its lowest level in three weeks. Silver and platinum retreated further, falling 1.8 and 1.5 percent, respectively.
U.S. stocks were mixed but with narrow changes. The Dow lost 0.39 percent, the S&P retreated 0.27 percent, and the Nasdaq rose 0.24 percent.
New York precious metals closing prices follow:
Gold futures for December delivery fell $16.00 to $1,322.60 an ounce on the Comex in New York. It was the lowest closing price since October 4. Gold ranged from $1,318.60 to $1,343.70.

December silver lost 42.6 cents to close at $23.404 an ounce. It ranged between $23.350 and $24.295. The metal climbed 1.2 percent during the prior day.

Platinum for January delivery declined $25.90 to $1,678.10 an ounce. It ranged from $1,676.70 to $1,716.30.

Palladium for December delivery slipped $6.30, or 1.0 percent, to finish at $619.15 an ounce. It ranged between $616.80 and $639.50.
In notable bullion quotes of the day:
"With the Fed poised to print more money, we expect dips will be viewed favorably by investors, with longer-term concerns about inflation and debasing of fiat currencies," James Moore, an analyst at TheBullionDesk.com in London, was cited on Bloomberg.

"While most everyone still expects the US central bank to 'give' something in order to add some adrenaline to the economic recovery process, the short-dollar/long-commodities crowd is becoming just a tad less certain that the Fed will be all that generous," wrote Jon Nadler, senior analysts at Kitco Metals Inc.
In PM London bullion prices, the benchmark gold Fix was $1,324.50 an ounce, which marked a decline of $5.00 from the price on Tuesday. Silver, however, rose. It was up 29 cents to a fixing of $23.770 an ounce. Other metals declined. Platinum was $1,695.00 an ounce for a loss of $1.00 and palladium was $622.00 an ounce for a loss of $14.00.
In coin news regarding the U.S. Mint, no increases were published for American Eagle gold and silver bullion coins. Bullion Silver Eagle coin totals have remained unchanged since Monday. Current U.S. Mint coin sales figures follow:
U.S. Mint 2010 Bullion Coin Sales
October
2010 Totals
American Eagle Gold Coin (1 oz)
86,500
974,000
American Eagle Gold Coin (1/2 oz)
3,000
39,000
American Eagle Gold Coin (1/4 oz)
2,000
56,000
American Eagle Gold Coin (1/10 oz)
25,000
380,000
American Buffalo Gold Coin (1 oz)
Sold Out
209,000
American Eagle Silver (1 oz)
2,600,000
28,080,500
Oil and gasoline prices
New York oil futures prices broke away from a three-day winning streak. December crude fell 61 cents, or 0.7 percent, to settle at $81.94 a barrel. Prices were up 3 cents on the previous day.
"The economy doesn't appear to be heading back into recession, but it clearly isn't showing any robustness," Bill O'Grady, chief market strategist at Confluence Investment Management in St. Louis, was quoted on Bloomberg. "The key is what the Federal Reserve will do to shore up the economy and what this will mean for the dollar."
The national average for regular unleaded gasoline fell three-tenths of a cent — matching Tuesday's drop — to $2.807 a gallon, according to AAA fuel data. The price is 2.4 cents below last week, 11.3 cents higher than a month back, and 13.2 cents above the price from a year ago.
U.S. Stocks
U.S. stocks were affected by reined in Fed expectations as well, opined analysts.
"The headlines today are that the Fed's effort to rescue the economy may not be the shock-and-awe campaign many had expected," Mark Luschini, chief investment strategist at Janney Montgomery Scott, said and was quoted on CNNMoney.com. "That's taking some of the fun out of the market."
The Dow Jones industrial average lost 43.18 points to 11,126.28. The S&P 500 Index fell 3.19 points to 1,182.45. The Nasdaq Composite Index edged up 5.97 points to 2,503.26.