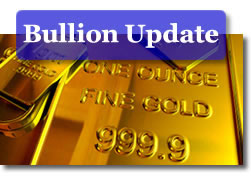 Gold, oil and stocks were mostly unchanged on Tuesday. Gold fell early as a stronger U.S. dollar pressured prices, but the yellow metal reclaimed losses as investors bought on dips. Gold declined 30 cents for the day.
The biggest gainers in precious metals were silver and palladium, with respective increases of 1.2 and 2.7 percent.
U.S. stocks were nearly flat with the major indexes all rising less than 0.27 percent.
New York precious metals closing prices follow:
Gold futures for December delivery retreated to $1,338.60 an ounce on the Comex in New York. It ranged from $1,328.10 to $1,343.80.

December silver gained 28.6 cents to close at $23.830 an ounce. It ranged between $23.165 and $23.950.

Platinum for January delivery rose $7.00, or 0.4 percent, to finish at $1,704.00 an ounce. It ranged from $1,690.20 to $1,709.40.

Palladium for December delivery surged $16.65 to $625.45 an ounce. It ranged between $602.90 and $627.00.
In notable bullion quotes of the day:
"Gold has been tracking the dollar much like the old days," Frank McGhee, the head dealer at Integrated Brokerage Services in Chicago, said and was quoted on Bloomberg. "Gold is off again on dollar strength."

"The present major driving force in the precious metals and other markets, the U.S. dollar, made a solid rebound Tuesday following a better-than-expected reading from the latest consumer confidence index report," wrote Jim Wyckoff of Kitco News. "But until proven otherwise, the still-weak overall technical and fundamental posture of the U.S. dollar index remains a significantly bullish underlying factor for the precious metals," Wyckoff added.
In PM London bullion prices, the benchmark gold Fix was $1,329.50 an ounce, falling $8.00 from the price on Monday. Silver was $23.480 an ounce for a loss of 23 cents. Platinum was down $6.00 to $1,696.00 an ounce. Palladium was $608.00 an ounce, declining $3.00.
U.S. Mint Gold American Eagle bullion coins were the sole gainers on Tuesday, although American Silver Eagles advanced 250,000 during the previous day. On Tuesday, one ounce Gold Eagles added 7,500 to reach an October total of 86,500. That tops the 82,500 sold in September. The quarter-ounce Gold Eagles entered the sales tables for the first time this month, rising 2,000. Current U.S. Mint coin sales figures follow:
U.S. Mint 2010 Bullion Coin Sales
October
2010 Totals
American Eagle Gold Coin (1 oz)
86,500
974,000
American Eagle Gold Coin (1/2 oz)
3,000
39,000
American Eagle Gold Coin (1/4 oz)
2,000
56,000
American Eagle Gold Coin (1/10 oz)
25,000
380,000
American Buffalo Gold Coin (1 oz)
Sold Out
209,000
American Eagle Silver (1 oz)
2,600,000
28,080,500
Oil and gasoline prices
New York oil futures for December delivery rose 3 cents to $82.55 a barrel.
"We started out lower on the stronger dollar," Tom Bentz, a broker with BNP Paribas Commodity Futures Inc. in New York, was quoted on Bloomberg. "At around 10 a.m. the market rebounded on the consumer confidence numbers. Now the market appears to be ignoring the dollar and has stalled."
The national average for regular unleaded gasoline fell three-tenths of a cent to $2.810 a gallon, according to AAA fuel data. The price is 1.9 cents less than last week, 11.0 cents higher than a month back, and 13.9 cents above the price from a year ago.
U.S. Stocks
U.S. stocks edged only slightly higher, with a cautious mix in the air opined more than one analyst.
"The belief is that quantitative easing is a done deal, and to a great extent that's why the market has been as buoyant as it has despite the fact that many leading indicators have stalled or gone down," Ryan Atkinson, vice president of Balestra Capital, said and was quoted on CNNMoney.com. "But it's now late October, so a lot of players are sitting on the sidelines until the elections and FOMC meeting."
The Dow Jones industrial average advanced 5.41 points, or 0.05 percent, to 11,169.46. The S&P 500 Index climbed 0.02 points to 1,185.64. The Nasdaq Composite Index edged up 6.44 points, or 0.26 percent, to 2,497.29.